Bob Torkelson '82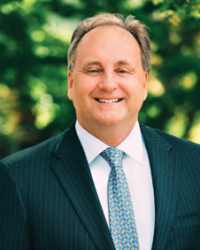 Bob Torkelson '82
President and Chief Executive Officer
Trinchero Family Estates
Darnall Alumni Fellow
Bob Torkelson, President and Chief Executive Officer of Trinchero Family Estates, has spent his entire career in the wine industry.
Upon graduation from DePauw University in Greencastle, Indiana, he joined the E&J Gallo Winery as a member of their management development program in Los Angeles. In 1987, Bob assumed the responsibility of General Manager for Gallo's business in Southern California, Arizona, Nevada, Hawaii and New Mexico. In 1990, Bob joined Lovotti Bros. Distributing Company in Sacramento, California as General Manager, responsible for all facets of a $50 million wine wholesale operation.
In 1997, Bob began his career at Trinchero Family Estates as the Division Manager in Chicago, responsible for the Midwestern United States. Bob quickly moved into the National Sales Manager role in 2000, managing domestic U.S. sales for the company. In November 2001, Bob was promoted to Senior Vice President of Sales – Global Sales Manager, overseeing Trinchero Family Estates' worldwide sales. Bob became Trinchero Family Estates' President and Chief Operating Officer in the spring of 2004.
In May 2017, Bob was appointed to his current role of President and Chief Executive Officer, assuming responsibility for the second largest family-owned wine business in the United States, and its dynamic, diverse portfolio of brands.
Bob lives in Napa Valley with his wife, Marie, and their two children.