Kate Leipprandt '84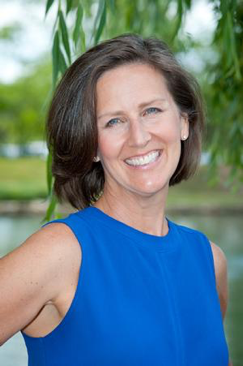 Kate Leipprandt '84
Owner/Managing Director, Baldwin Financial Advisors, LLC
Darnall Alumni Fellow
Kate is the Owner and Managing Director of Baldwin Financial Advisors, LLC. (Arlington Heights, Illinois), a registered investment advisory firm, involved in fee-based financial planning, consulting and education for individuals and small businesses. Kate specializes in helping her clients build, protect and sustain financial independence and has a talent for making difficult topics easier to understand.
Kate did her undergraduate studies at DePauw University (Greencastle, IN), earning a BA in economics with minors in French and Psychology. She studied economics as part of her undergraduate work at the University of Strasbourg, France. She continues her work at DePauw by returning to the school campus to speak to the Women in Economics and Business students and as a McDermond Series Speaker. She was recently honored as a Darnall Alumni Fellow. In addition, Kate has hired over a dozen Economic students as interns since 2014 to work in her firm, one of whom is now a full partner at the firm. Kate is being honored with the designation of Accredited Estate Planner® at the National Association of Estate Planners & Councils in November 2019. This recognizes advisors of many disciplines for their significant lifetime achievement and outstanding contributions to the practice and profession of Estate Planning.
Kate was first published in 1988 when she was selected as a contributing author for Loren Dunton's book "About Your Future." In 2004, she had her first edition of a textbook titled the "ABA Financial Planning Workbook" published by the American Bankers Association (ABA). It is a resource recommended by the (ABA) for trust administrators, private bankers and other wealth advisors to obtain their Certified Trust and Financial Advisors (CTFA) designation. Kate's most recent version was published in 2016.
Kate taught Insurance & Investment courses she authored for the American Bankers Association's National Graduate Trust School 1997-2016. Other audiences for Ms. Leipprandt include corporate clients Commonwealth Edison, InSpeech, Underwriters Laboratories, Northern Trust Bank and the First United Methodist Church of Arlington Heights. Kate is known to hold women's workshops across the Chicago area, empowering women with financial knowledge. Numerous financial institutions continue to utilize Kate's systems, processes and tools as taught in her presentations.
She has appeared as a spokesperson for a major financial services firm in national TV advertisements, as well as in Business Week, U.S. News and World Report, Working Woman Investment News & other publications, including the Chicago Tribune.
Kate is involved with many associations including:
• The CFP Board Women's Initiative (WIN) group, wherein Kate, as a mentor, is charged with identifying, encouraging and supporting women into careers in financial planning.
• The Financial Planning Association (FPA), where Kate has volunteered during Smart Money week to offer financial advice to families in Chicago, plus offered her services via a free call-in for military families.
• The Society of Financial Service Professionals (SFP) for which she has presented programs such as "What Women Want" and also "Practice Management & Wealth Planning Tools"
• The Arlington Heights Chamber of Commerce and
• The National Association of Insurance and Financial Advisors (NAIFA) among others.
Kate is also a Financial Advisor for a large securities and investment advisory services firm and is licensed to sell insurance, securities, annuities and other products she considers an optional 'tool kit' for assisting clients. She holds her series 7, 6, 22, 63 & 65 securities licenses. Kate and her associate advisor Elizabeth Grady were asked by Investment News to present "Developing the Next Generation of Female Advisers" at the 2017 Women Adviser Summit in Chicago.
Personally, Kate has been active in the community as past Co-President of the local High School's PTA (TPC) board, Team Parent for the high school soccer team, and youth soccer coach. She serves on the Investment Committee, Endowment committee & Preschool Board at the First United Methodist Church of Arlington Heights, IL; has run Charitable Giving and financial planning workshops for church members since 1992 and sponsors the annual charity golf event to raise funds for mission work and other work done by the church. Kate has participated in the Appalachia Service Project mission work in America, as well as in her daughter's mission in South Africa to donate soccer "boots" to a church youth group while she studied biology at the University of Cape Town, South Africa. Kate continues to donate her time working pro-bono for clients in need and has signed up to work pro bono for cancer families via the Financial Planning Association.