Design and Awards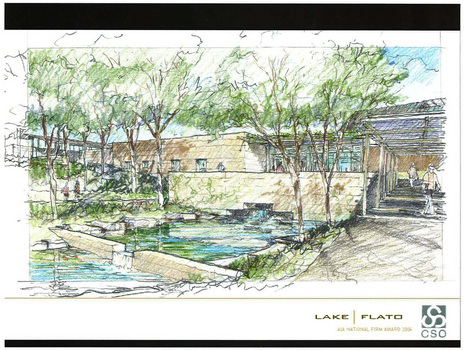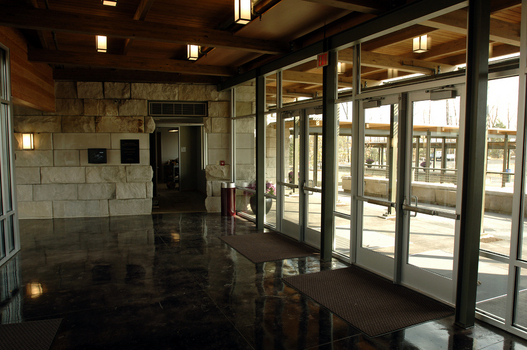 First LEED Gold certified Building in Indiana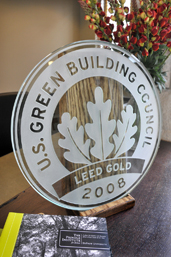 Designed by Lake Flato Architects, leaders in green architecture, the Institute is LEED (Leadership in Energy and Environmental Design) certified by the U.S. Green Building Council (USGBC). The architects carefully considered how to minimize the impact on the site's natural environment and resources while creating a stunning experiential learning environment. Locally-quarried limestone and regionally-harvested woods, used for both exterior and interior finishes, provide color and texture that both blend with the surrounding context of the old quarry site and meet the rigorous standards of the USGBC. The configuration of the buildings around a landscaped courtyard brings in natural daylight to increase the quality of the interior space while decreasing the building's energy use.
In May of 2008 the Prindle Institute became the first building in Indiana to receive a Gold rating for energy efficiency and environmental design from the U.S. Green Building Council. Its LEED Green Building Rating System™ encourages and accelerates global adoption of sustainable green building and development practices.
In 2008, Lake/Flato and CSO Architects were awarded the Outstanding Indiana Architecture Award and the San Antonio Design Award by the American Institute of Architects for the Institute's design.
For More Information on the Sustainable Materials and Systems Used During the Construction of the Institute, Please Click Here.
Watch the video to learn more!
The Prindle Institute Design & Construction Team
Design Architect: Lake/Flato Architects
Architect of Record: CSO Architects
Structural Engineer: Lynch, Harrison & Brumleve
Mechanical, Electrical & Plumbing Engineers: L'Acquis Consulting Engineers
Civil Engineer: The Schneider Corporation
Native Planting Consultant: J.F. New
LEED Consultant: The Architectural Energy Corporation
General Contractor: Shiel Sexton, Co. Inc.
HVAC Contractor: AA Huber & Sons
Electrical Contractor: Miller Eades