Molly Sender, '12
Project Manager for the State of Indiana Department of Workforce Development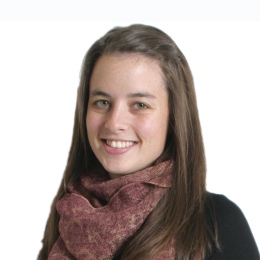 1) What have you been up to since graduating from DePauw?
I was a member of the Orr Fellowship, which aims to develop Indiana's next generation of business leaders and entrepreneurs. About 25 graduates of all different Indiana universities get selected per year to be placed at high-growth start-ups in Indianapolis to see the inner workings of a startup and what it takes to be an entrepreneur. I was placed at Courseload, which is a digital textbook platform. There is also a curriculum component of the Fellowship, aimed at understanding and giving back to one's community, namely Indianapolis.
I currently work for a consulting firm in Indianapolis, as a project manager for a project with the State of Indiana Department of Workforce Development. I am assisting with managing a program that assists those receiving unemployment benefits, as well as a program that helps find those who are unemployed find gainful employment.
I am also heavily involved in Indianapolis community development and engagement. I blog for a site called TrndyIndy.com, participate on the board of the Indianapolis Chamber Orchestra, volunteer for Make-A-Wish foundation, and remain active in the Indianapolis Jewish community. I lead a group called Moving Traditions, which is a mentoring program for girls in 8th and 9th grade. The program utilizes the Jewish religion and faith as a means to handle complex issues like bullying, body image, sexuality, and relationships facing young teens today.
2) How do issues of ethics and values enter into your professional role?
I encounter issues of ethics and values daily as I continue to figure out my interests and passions in my adult life. I was deeply entrenched in the arts at DePauw, majoring in music and business, so my first few months of my professional life involved discovering a way to nourish my musical side while I was working as a services manager at Courseload. I found a great balance between work and service, finding two service organizations in Indianapolis to express my musical side, and discovering my passion for working with people through training and service offerings given to me at Courseload.
At my current job, I struggle daily with not doing "enough". It can be dull at times, and I often feel that I'm not doing something that is impactful enough for others. I wonder if I should be in a position that more directly and influences the community around me. I think that will always be a struggle for me, but a large goal has been trying to find my "north star" and always chase after that. I feel I am in a place where I AM impactful so long as I see the forest for the trees, and if there are times when I don't feel as connected to community, I try to find other avenues or opportunities to give back.
Since joining the professional world, I've also discovered that staying true to ones values can determine the enjoyment of one's job. Understanding what motivated me helped me express to my superiors my passions, and I was able to be placed in an area where my skills are best put to use, thus ensuring satisfaction and enjoyment in my role.
3) What societal ethics issues are most important for us to address and why?
Acceptance of all people has to be a priority for everyone. In light of the Supreme Court decisions about DOMA and Prop 8, it's an exciting time to realize that, as a society, we are making progress, but it's also important to understand we have a long way to go. Living in Indiana as a professional is different than attending DePauw. At DePauw, acceptance and open communication was a priority. However, since coming into the wider world of Indianapolis, and Indiana as a whole, I realize now how lucky I was to live in a place where open discussion was fostered and encouraged. I worry that if Indiana continues to be close-minded in regards to personal freedoms- whether sexual orientation, religious affiliation, etc., we will block a lot of great people and talent who would otherwise come to our state. We forget that companies and organizations are made of people; we need everyone to want to work in an open and accepting place, and right now I don't think we're there yet. I love Indianapolis and I am proud to be a newly minted Hoosier, but I think our state (along with many others) has a lot of work to do when it comes to accepting those who are different than us.
4) Did your experience as a Prindle Intern influence your career choice, graduate studies, travels, etc.?
I am always trying to be conscious about taking on opportunities that will enhance life for those around me. I feel very drawn to community, and I think that was a big aspect of Prindle- having a community to discuss, learn, and ask the big questions has influenced my goals of creating those types of communities where I now belong.