Paige Penrod, '10
Resident in Obstetrics and Gynecology
1) What are you doing now?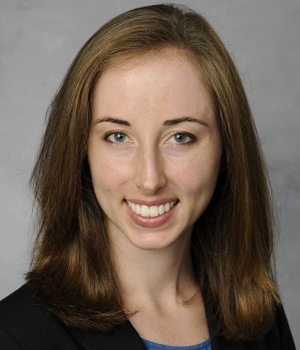 I graduated from medical school in 2014 and am currently living in Milwaukee. I am now doing a residency program in obstetrics and gynecology.


2) How did issues of ethics and values enter into your time as a med student?
There are so many ways I could answer this question as the medical field is ripe with issues of ethics and values. Since I am still a medical student, I will focus on medical training. During our third and fourth years of medical school, we are part of the care teams for patients in both inpatient and outpatient settings. While our role is primarily to learn, we still have the opportunity to impact patient care. As we are relatively inexperienced and sometimes performing procedures for the first time, we rely on our supervising physicians to ensure that patients are appropriately treated. It is a big adjustment to go from the classroom to the hospital floor, and learning the right thing to do both medically and ethically is a big challenge. As we continue to become more and more proficient in terms of the proper diagnosis and treatment of patients, taking the time to also reflect on what we've learned in terms of values and ethics is important as future physicians.
3) What ethical dilemmas have you encountered, or sought to resolve, since starting residency?
A number of sensitive issues come up in obstetrics and gynecology. I deal with complex ethical issues frequently.
One of the biggest challenges in this field is how to counsel patients whose pregnancies are on the threshold of viability but are facing imminent delivery. It is difficult to have conversations with patients about the extent to which they would like to intervene and resuscitate newborns who may face a number of lifelong complications due to extreme prematurity (if they live.) And these discussions are particularly difficult when the amount of time prior to delivery is very brief, if the patient is in a lot of pain, or a number of family members disagree (and all these things could be happening at once.)
Other big issues, of course, involve women's reproductive rights. I work at two catholic hospitals and one academic center. Two of the three hospitals I work at do not offer elective or therapeutic abortions. What the "right" thing to do in a number of circumstances is not always clear. I do not think abortion will ever be a easy topic to address.
From my perspective, I can understand why many people can get fired up about some of the services offered by clinics like Planned Parenthood. But reproductive rights also extend to access to contraceptives, counseling, sex education, treatment for sexually transmitted infections, identification of domestic violence, sexual abuse, and so much more.
It's challenging to not only learn how to diagnose, operate and treat, but also deal with the number of ethical dilemmas that arise in my field.
4) What societal ethics issues are most important for us to address and why?
Women's access to reproductive healthcare needs to continue to be addressed on both local and national levels. This includes everything from health education, to access to contraception, to genetic screening, to reasonable access to and appropriate counseling for abortions and more. I have the opportunity to directly provide this care as a future Ob/Gyn and it concerns me to think about external forces (governmental, institutional, religious, etc.) impeding my ability to provide the best and most appropriate care for my patient. There are certainly a number of points to discuss both medically and ethically which I cannot hope to address in this brief response, but at the end of the day, I believe that every woman should have access to the full spectrum of reproductive care.