Emily McWilliams
2017-2018 Nancy Schaenen Endowed Visiting Scholar of Ethics
Every year, the Prindle Institute for Ethics alternates between hosting a Schaenen Scholar and a Frederick Visiting Professor. Below is more information about our current Schaenen Scholar.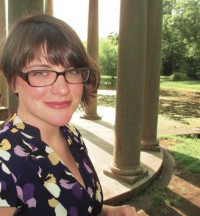 Emily McWilliams is the Nancy Schaenen Visiting Scholar at the Janet Prindle Institute for Ethics for the 2017-18 academic year. She comes from the Massachusetts Institute of Technology, where she was a Postdoctoral Associate in the Department of Linguistics and Philosophy. She received her Ph.D. in philosophy from Harvard University in 2016. She received her B.A. from Tulane University in 2005, where she was a triple major in philosophy, psychology, and linguistics, a double minor in French and English, and graduated summa cum laude.
Dr. McWilliams' research is at the intersection of epistemology and ethics. The processes by which we decide what to believe are often played out interpersonally, by individuals with complex social identities. Given this, McWilliams investigates how social and political factors, like social power and authority, can impact the way that people reason, and asks what we can do about it. Her work draws on research in epistemology and feminist philosophy, on interdisciplinary scholarship in women's and gender studies, and on empirical work in the cognitive sciences.
McWilliams has designed and taught a number of different types of courses at Harvard University, Boston College, and M.I.T., in both philosophy and women's and gender studies. This fall, she is teaching a course entitled How to Live: Moral Issues in Public and Private (PHIL 209A). The course engages in moral debates that are pressing for the present and the future, and uses them as a means of exploring both how philosophical theories can help us answer moral questions on the ground, and what reflection on particular topics can teach us about the philosophical theories themselves.
Beyond her research and teaching, McWilliams is passionate about ethics and public philosophy, and about using philosophical analyses to gain insight into contemporary issues. She looks forward to being involved in outreach, ethics education, and community engagement through many of The Prindle Institute's programs this year.