Conflict Kitchen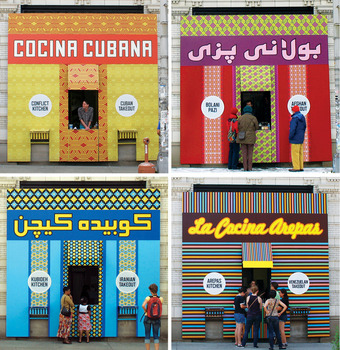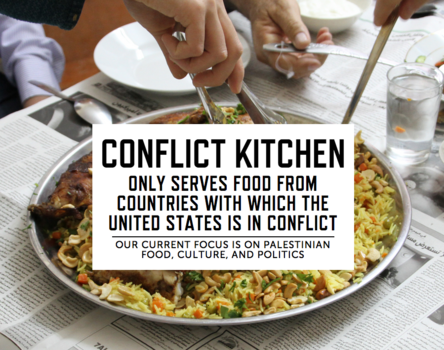 On October 27-30, 2014, the Conflict Studies program, the Janet Prindle Institute for Ethics and the Department of Art and Art History at DePauw University will welcome the artistic founders and chef of Conflict Kitchen. Conflict Kitchen is an art project that takes shape as a restaurant in Pittsburgh that "only serves food from countries in which the United States is in conflict," with the country of focus changing every few months. The restaurant is currently in its Venezuelan phase, and past versions include Afghanistan, North Korea, Cuba, and Iran. At the time they visit DePauw this fall, they will be in their Palestinian phase.
Using strategies of socially and publicly engaged art, Conflict Kitchen places an equal amount of emphasis on preparing authentic meals as they do on educating customers on the conflict of focus. Not only do they visit the countries to gain a greater understanding of the conflict and cuisine, but they also interview Pittsburgh residents from these nations to better understand different perspectives. The food at Conflict Kitchen is served in paper wrappers that function as informative handouts with direct quotes from these personal interviews as well as information about the cuisine, politics and culture of the country.
Artists Dawn Weleski and Jon Rubin, the creative founders of Conflict Kitchen, will present a public lecture on Monday, October 27 at 4:15 PM in Peeler Auditorium. While on campus, they will also be visiting several classes, meeting with students and faculty, and conducting art critiques with Studio Art majors.
On Thursday, October 30 at 6:00 PM, Dawn Weleski and Robert Sayre, the chef at Conflict Kitchen, will serve a Palestinian meal at Prindle and give a presentation about the politics of food in Palestine and the way it is used to establish cultural identity. Tickets for this meal will be available in mid-October to DePauw students, faculty, staff, and Greencastle community members.
We hope you will consider attending the Conflict Kitchen lecture and meal to learn more about this unique restaurant, social practice art, and the conflict in Palestine.