Marc Swanson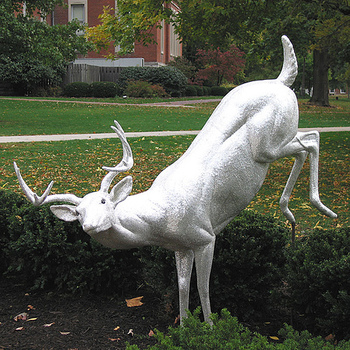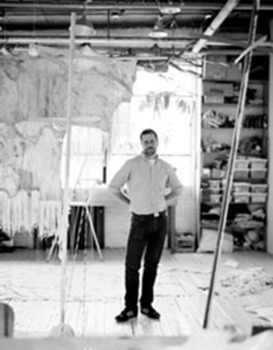 On November 5th and 6th, 2015, the Ted and Katie Blair Ukrop Visiting Artist Fund and the Department of Art and Art History at DePauw University will welcome the inaugural Ukrop Visiting Artist, Marc Swanson.
On the tenth anniversary of DePauw's acquisition and subsequent vandalism of his sculpture, Fits and Starts, internationally-known artist Marc Swanson will return to present a lecture about his work and a screening of the student-made film about the piece, A Deer Diary. The film screening will be followed by a Q & A session with the artist.
Fits and Starts is a life-size sculpture of a deer in mid-leap that is entirely encrusted in rhinestone crystals, a visually dazzling medium that alludes to themes of artifice, seduction, desire, exoticism and fantasy. Currently located in the second floor alcove of Peeler Art Center, the sculpture was completed in 2004 and acquired by DePauw University as a gift from the Butler Family Foundation in 2005. Within weeks of being installed, the sculpture was vandalized and removed. The incident sparked responses from faculty, staff, and students and resulted in deep conversations across campus about identity, LGBT treatment on campus, the nature of public art and public space, and the rights and responsibilities of administrators and audiences of artworks.
The Richard Gray Gallery, who represents Marc Swanson, provides the following biography of the artist and his work:
"Marc Swanson (American, b.1969) works in diverse media, including sculpture, drawing, collage, photography, video, and installation. The artist employs a refined range of materials, relying on a concentrated vocabulary of wood, glass, textile, naturally-shed animal antlers, and precious metals. He often juxtaposes "high" and "low" materials in the same work: rhinestones, gold and silver chain, and black mirrored panels meet lumberyard two-by-fours and white cotton t-shirts coated in latex. In these juxtapositions, the former adorns the latter in a way that is transformative for both.
The artist grew up the son of an ex-Marine and avid hunter in small-town New England. He then moved to San Francisco in the early 1990s and became involved in the city's gay counterculture and club scene. He did not feel totally at home in either place, and he began making his first mature work—the crystal-covered deer head sculptures for which he is perhaps best known—as a way to explore, both physically and spiritually, the duality of masculine identities he was experiencing. To this day, this investigation of personal history saturates his work in all media, as does a quiet nostalgia that accompanies such a mining of the artist's past. As the critic David Velasco writes, "Swanson is an automythologist, one who excels at crafting sparkling, enigmatic totems from the messiness of his own history." The artist has also been called an alchemist, recasting the aesthetic and cultural connotations of his materials through a visceral, highly personal narrative.

Swanson received his MFA from the Milton Avery Graduate School at Bard College, Annandale-on-Hudson, New York, and also studied at Skowhegan School of Painting and Sculpture in Skowhegan, Maine. Swanson's work has been the subject of solo exhibitions at the Herbert F. Johnson Museum, at Cornell University, in Ithaca, New York, and the Saint Louis Art Museum, and in 2011 he also had a solo show at the Contemporary Arts Museum Houston. He was commissioned to make the 2009 Peter Norton Family Christmas Project, and in the fall of 2010 he completed a large-scale outdoor sculptural commission for the Kemper Museum of Contemporary Art, in Kansas City. He lives and works in Brooklyn."
We hope you will consider attending the artist lecture and film screening with Marc Swanson to learn more about this important artist, the impact of his sculpture, Fits and Starts, and the resulting controversy surrounding it.
Public Events
4:15 PM, Thursday, November 5, 2015
Public Lecture by artist Marc Swanson
Peeler Auditorium, DePauw University, 10 West Hanna Street, Greencastle, IN 46135
free and open to the public
4:15 PM, Friday, November 6, 2015
Screening of "A Deer Diary" and Q&A with artist Marc Swanson
Peeler Auditorium, DePauw University, 10 West Hanna Street, Greencastle, IN 46135
free and open to the public