Andrea Cofield '08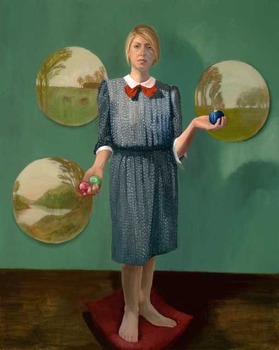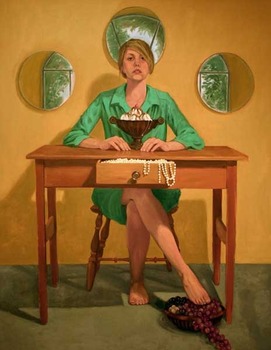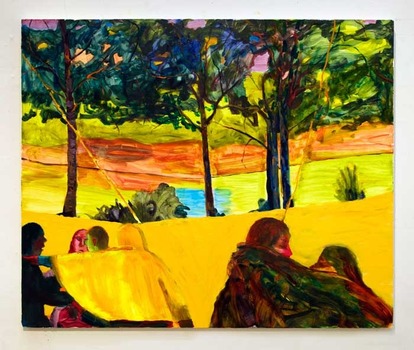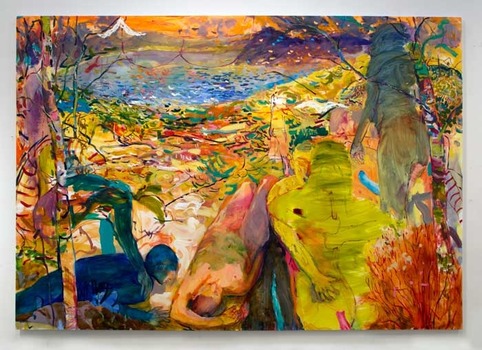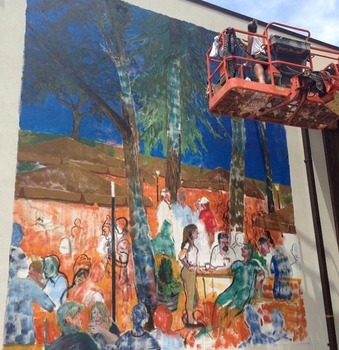 Drea Cofield graduated from DePauw University in 2008 with a double major in Studio Art and East Asian Studies. She went on the receive her MFA from Yale University in 2013 and was a 2012 recipient of the university's Gloucester Painting Prize. Drea now lives and works in New York City, and has exhibited in Italy, New York, Connecticut, North Carolina, and Indiana. She recently completed a 20 x 17 foot outdoor mural in August 2014.
Q: What have you been up to after Depauw? What has been keeping you busy?
A: OH man, that feels like 50 years ago. After I graduated from DePauw I was one of the lucky grads who was accepted for the 5th Year Internship program. My main goal was to amass a body of work that I felt I could eventually apply to MFA programs with. I didn't feel ready right after graduating from DPU, and I took all the time I needed which turned out to be about three years. I finished my internship, had a few shows, did a residency in Italy, moved to Charlotte, NC, to work on my own and finally apply to MFA programs for 2011. I was accepted into Yale on my birthday a few weeks after I was invited to Norway to paint with Odd Nerdrum through another DePauw painting alum, Tim Allen '92. I was in Norway for a month for one of the strangest experiences of my life and started at Yale a few months later. Graduate school was an incredible experience where I met many brilliant and talented peers and idols. After I graduated I moved to Brooklyn with most of my classmates where I am working and living now. I just did a mural this summer back in Charlotte and I am getting back into the studio swing. I work in a metal shop near the live-work loft space I share with several other artists and writers.
Q: Why did you decide to take studio classes at DePauw?
A: I think I've always been interested in images and being a maker of images and just considered art classes to be a part of my life. You know, I was always good at drawing and have a fanciful, encouraging mother, blah blah blah. Nothing too revolutionary in my decision-making here. I just chose to stick with my favorite subject that I knew I had a knack for. When I'd visited DePauw, I was so impressed with Peeler, I liked how open and free it felt. I mean, there were so many facilities and so few bodies to use them, it felt as thought I could do anything I want, like a great playground. Interestingly, I started my freshman year with some Drawing classes and an animation course taught by the late David Herrold. Wow, that class was so hard! I have no idea how I survived! All of my projects were so terribly lame. It wasn't until my junior year painting classes after working with Forrest Solis and Robert Kingsley that I really started to understand what it meant to be an artist and a painter. I actually thought Forrest was completely disinterested in me as a young, recent IU MFA graduate with serious paintings to make. However, my parents came for an open house and she kind of turned her back on me and spoke straight to my mom and dad and told them quite matter-of-factly that I should be a painter. I was so shocked. She never actually said it to me (nothing is less interesting than a conceited mediocre student. Or maybe she said this to everyone's parents!) but it made a huge impression on me. Kingsley, for all his grumpiness, was an excellent teacher who pushed me as far as he could and backed off when my ideas went beyond him.
So, in short, the facilities are amazing and some really special faculty has come through! Haha, sorry I'm so long-winded!
Q: What is your painting process like; do you start with an idea?
A: This is a bit of a tough question for me at the moment. I know before graduate school I would start with an idea I would loosely draw, then find all the objects I needed for proper observations. I would let the idea grow with the painting, but many times it left things stiff, not in an uninteresting way, but the painting narrative (the one below or building up the literal narrative of the image) was about restraint and description. When I think about it now, it was such a satisfying struggle to work a painting to completion from an idea, but my circumstances and interests have changed to adapt to non-linear ideas about making work.
My last big project was this past August when I was commissioned to do a 20 x 17 foot mural for a Brewery in Charlotte, NC. I surprised myself by how quickly I responded to the scale and I feel as though I actually made an enormous painting rather than a mid-sized mural.
Presently, I've filtered my painting process down to small one-shot observational paintings. I use my own images, objects, references to paintings and literature, appropriated images from the news or the internet and alter or edit them to find a moment within a composition I desire. Instead of having an idea that is made visual, I'm letting these paintings actively live in an idea, word, space, emotion, etc. I have a small live-work space and I'm thinking about my paintings in relationship to writing. I think painting for the last 40 years or so has run a parallel stream to cinema and the eye of the panning lens. Movies and television have framed realities for us for so long, the news in a similar way now, and I'm trying to figure out what exactly I want to say about it while trying to regain some focus again. I've been thinking a lot about the words "slow" and "serious" as well as "ecstatic", but not without a lot of laughter.
Q: Any advice for art students? What should current studio art majors know?
Yeah! The importance of looking. Look, look, look! Go to museums, subscribe to publications, look at blogs. People are constantly making things and having conversations and it's so important to look around you. You never know when something is going to click or open a door. Even the news or a lecture over at Julian. While you're at DePauw, seriously try everything! Learn your limitations and the limitations of the mediums and try to transcend them. If you don't want to pursue a career in the arts, the major still lends itself to a culture of critical thinking that can compliment any path or lifestyle you may choose. A liberal arts situation, I think, is fertile ground for proliferating ideas if you know what you want. You can take classes on anything you are interested in and that is an amazing resource for you art majors! Don't be afraid to be yourself and speak up. Critiques aren't just scary arenas for the faculty to flex their muscles, it's a space for conversation and growth. Right and wrong is of no object here! You'll learn as much from the art you hate (maybe more) as from the art you love. Finally, talk to each other! Sometimes we get seduced by the idea of the heroic, hermetical artist or assume because you use paint and I use plaster that we aren't thinking about the exact same things. Document everything! Seriously, if you want to continue on in the arts, you will need pictures of what you have done. Forever. Learn how to document the kind of work you make, it will be an unbelievable asset. The artist statement. This little one-page blurb you will need for school applications, grant applications, show applications, residency applications, everything. Start writing one now and re-write it over and over and over. Show it to your peers and professors in ANY field. It's one of the hardest things you'll ever do (and keep doing). And finally, keep a journal and/or sketchbook. Do whatever you want with it, but recording your thoughts, dreams, ideas, plans, lists, books you've read, shows you've seen, films you've watched, questions you've had, moments of sadness, moments of clarity... they are your best friend.