2015 Art History Majors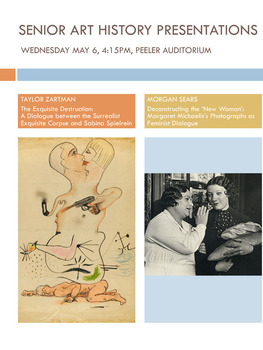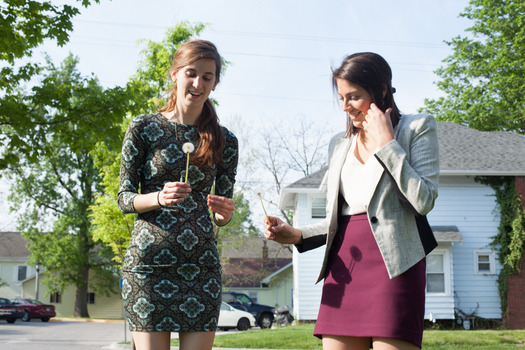 Morgan sears

Deconstructing the 'New Woman': Margaret Michaelis's Photographs as Feminist Dialogue

The Austrian photographer, Margaret Michaelis documented Catalan women during the crucial time of the interwar years of 1931-1936. As a banished single, Jewish woman Michaelis transcended her own life experiences by creating in her compositions an understanding and sympathetic dialogue between women, a dialogue between female photographer and female subject, and a dialogue between Austrian Jew and Spanish Catholics. In my paper, I argue that Michaelis's photographs are a form of opposition to the Spanish government's Falange Española's policies and treatment of women and thus a call for female empowerment. With her photographic work for the progressive, leftist Grupo de Arquitectos y Técnicos Españoles para el Progreso de la Arquitectura Contemporánea, she campaigned against the New Woman Movement's traditional homemaker, caregiver, and woman of Catholic purity.

TAYLOR ZARTMAN

The Exquisite Destruction: A diagloge between the Surrealist Exquisite Corpse and Sabina Spielrein

Psychoanalyst Sabina Spielrein's 1912 article "Destruction as the Cause of Coming into Being" theorizes, predominately in regards to sexual encounters, that the individual must experience a "destruction" of the self to create a resurrection in a new form. This thesis connects Spielrein and her theory to the artistic movement of Surrealism. Surrealism has long been discussed in regards to Freud, but scholarship has long neglected Spielrein's deeply influential role as a student and peer of Freud's. In this paper, I argue that Spielrein's theory influenced the Surrealists, as revealed by the process and product of the exquisite corpse drawings. Looking to the process of an exquisite corpse as collaborative reproduction, each artist contributes within a limitation for the sake of a new creation. And within the exquisite corpses themselves, I explore connections to Spielrein's theory through recurring themes of masochism. Even the folds of the exquisite corpses themselves maintain this tension of power – that line is the vital formal element of deconstruction necessary in the creation of an exquisite corpse; it is the moment where deconstruction and transformation happen, simultaneously and constantly.