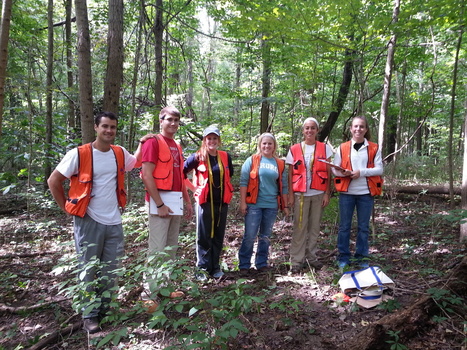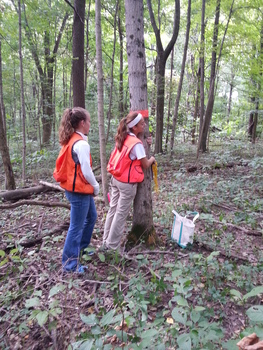 How do undisturbed forests change over time?
Professor Vanessa Fox initiated a new research project in 2008. The goal of this project is to study the dynamics of forest structure and composition. She came up with the idea from reading about research published by Stephen Hubbell, an ecologist at UCLA, senior staff scientist at the Smithsonian Institution, and the author of The unified neutral theory of biodiversity and biogeography. In 1980, Hubbell initiated a project to investigate the long-term forest vegetation dynamics on Barro Colorado Island in Panama. Hubbell and his colleagues and students identified, measured, tagged, and mapped the location of all individual trees ≥ 1 cm in diameter in a 50-hectare tropical forest. Hubbell and his team have since revisited the site at least once every 5 years to document changes in the vegetation. This work became the foundation for the establishment of similar studies throughout the world, all using the same measurement protocols.
When Prof. Fox read about this approach, she thought why not try this in the DePauw Nature Park? There are several relatively large and undisturbed patches of forest within the park where this type of study could be conducted. She decided to establish two separate plots. Over a 4 year period, Prof. Fox and her students identified, measured, tagged, and mapped the location of all individual trees and vines ≥ 1 cm in diameter in approximately 2.6 hectares of forest. They have accumulated a data set on over 4,400 trees and over 1,400 vines. This year (in 2013), Prof. Fox and her students have returned to the plots to document the changes in vegetation. They are checking and re-measuring each individual tree and vine and documenting recruitment of new trees into the communities.
Students who have contributed to this project include Amanda Hendricks '09, Laura Robinson '09, Lauren Reich '10, Josh Baugh '11, Scott Meyer '12, Danny Wetli '12, Kristen Frederick '12, Ryan Kelly '12, Emily Meadows '12, Caitlin Cleary '14, Micheline Figel '14, Joey Tedeschi '14, Ashley Guevara '14, Amy Clark '14, Bridget McCann '15, Claudia Gutierrez '15, Michael Britton '15, and Josh Quinn '15.