Pascal Lafontant
Pascal Lafontant and his students study heart regeneration in a tropical fish, the giant danio. In humans, heart regeneration after a heart attack leads to permanent scarring of the heart muscle, which weakens the heart significantly. But in the giant danio, damaged heart tissue is replaced with new functional tissue. Professor Lafontant and his students are trying to learn how the fish can achieve this regeneration of functional heart tissue in the hope that someday this can be applied to humans.

In 2012, Professor Lafontant and his students co-authored a paper published in The Anatomical Record. The paper describes inflammation, collagen deposition, and tissue remodeling in the hearts of the small tropical fish. "The Giant Danio (D. Aequipinnatus) as A Model of Cardiac REmodeling and Regeneration," Pascal J. Lafontant, Alan R. Burns, Jamie A. Grivas, Mary A. Lesch, Tanmoy D. Lala, Sean P. Reuter, Loren J. Field, and Tyler D.Frounfelter. The Anatomical Record 295: 234-248 (2012).


TanmoyLala Das '12 (in photo below) one of Professor Lafontant's (in photo, on right) research students, won first place for his poster at the 2011 meeting of the American Association of Anatomists. Das was one of seven students working in Professor Lafontant's lab on various aspects of heart regeneration. "The heart fascinates me because it is such a small organ, and yet so important to the entire organism," Das says.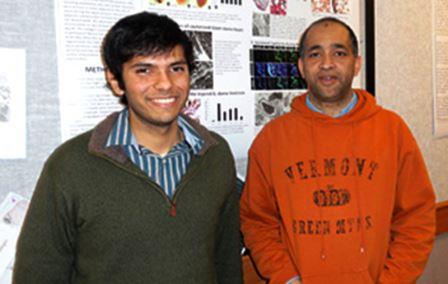 Adedoyin Johnson '13 (in photo below, second from right), another student in Professor Lafontant's lab, won the prize for best abstract for undergraduate students at the Indiana Physiological Society meeting in 2013. There are typically 5 to 7 students, working on various research projects in Professor Lafontant's lab.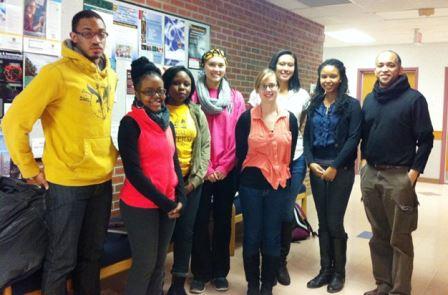 Professor Lafontant teaches courses in cell and molecular biology and animal physiology. Among the courses he teaches are: Bio 197: Regeneration Biology; Bio 215, Cells and Genes; Bio 290, Cancer Biology; Bio 335, Animal Physiology, and Bio 381, Cell Signaling.