Computer Science Department
Ashley Conard Wins Poster Competition at Carnegie Mellon
Senior, Ashley Conard presented a poster, "Creation and Implementation of D4M Algorithm for Protein Analysis" for the OurCS 2013 conference at Carnegie Mellon, October 18-20, 2013.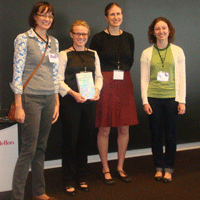 http://www.cs.cmu.edu/ourcs/Posters.html provides more information about Ashley's success. Her abstract follows:
"The objective of this project is to quickly diagnose a patient with any kind of infection, which resides in protein space. Current methods for analysis are slow, and require human intervention. This process can be automated using the Dynamic Distributed Dimensional Data Model (D4M), with the goal of reducing time for analysis down to one hour so that the patient can be informed of his or her illness before leaving the doctor's office.
D4M incorporates fuzzy and sparse linear algebra, distributed and associative arrays, as well as triple-store/NoSQL databases such as Apache Accumulo to combat the problems associated with Big Data analysis. This project deals with the development the D4M algorithm to handle protein data. Each infected patient's DNA sequence is translated into 6 possible proteins, and then compared to the database of all known reference proteins, comprising of Archaea, Bacteria, Fungi, Plasmids, Viruses, and Human.
Results show that this analysis is more accurate and takes significantly less time (down to about an hour). When a patient is sick, timing is everything, and this research is moving towards a final goal of delivering clinical data analysis results, fast."