Computer Science Department
Computer Science Major Wins National Scholarship (Spring, 2011)
As reported on DePauw University's web site , the Barry M. Goldwater Scholarship and Excellence in Education Program recently announced its 2011 Scholars, and to no one's surprise in DePauw's Computer Science Department, Catherine "Catie" M. Baker '12 is a recipient of the prestigious award.
The Goldwater Scholarship is the premiere undergraduate science and mathematics award in the United States. The scholarship program was designed to foster and encourage outstanding students to pursue careers in the fields of mathematics, the natural sciences and engineering.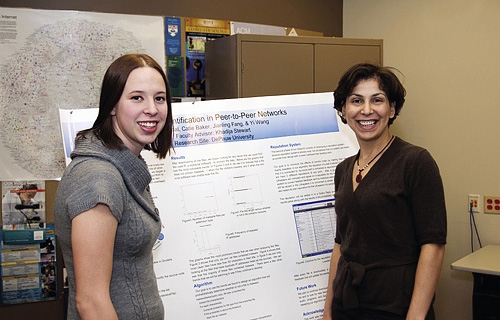 Khadija J. Stewart, assistant professor of computer science, is the Goldwater faculty adviser. "I'm really proud of Catie. Not only is the award extremely important to Catie, it's important to DePauw – to be able to compete with other schools that receive it. It's thanks to Catie that we received one this year." Catie (left) is pictured above with Professor Stewart who has also sponsored some of Catie's research projects.