Education Studies Alumni
Rachel Hanebutt
Rachel Hanebutt, an Education Studies and Political Science double major and Chemistry minor, has interests in metacognitive learning, education research, and integrating social justice into the classroom setting. During her time at DePauw, Rachel engaged with numerous opportunities in the field of Education, such as attending a Winter Term in Thailand to study the education system
, working for the Putnam County Community Foundation on local education research projects, volunteering as a Science Teaching Assistant at Greencastle Middle School (see blog for more detail), and interning at the U.S. Department of Education's National Center for Education Statistics.
During her sophomore year, Rachel founded the Knoy Center after-school tutoring program, which connected her DePauw peers with at-risk youth needing homework help. As a junior, Rachel organized the first ever Greencastle Girl's Club to mobilize empowerment of female youth in the local community. Rachel's passions include raising awareness and funds for domestic violence, serving as an International Student Ambassador and English Teaching Assistant for non-domestic students, and facilitating intercultural community conversations on DePauw's campus. She served as the Student Coordinator of DePauw Community Service for two and a half years and worked as a senior Prindle Intern with a focus on Education ethics; she studied the ethics of zero tolerance policies, ethics of juvenile incarceration, and the ethics of diversity and inclusion initiatives on DePauw's campus.
Rachel's favorite Education Studies courses included Decolonization Education Theory (EDUC 390), Developmental Theories (EDUC 222), and Political Economy of Schools (EDUC 360). She chose to become an Education Studies major because it allowed her to critically unpack the relationships between learning, society, politics, and inequality through the lens of education. Rachel's senior Education Studies research was titled,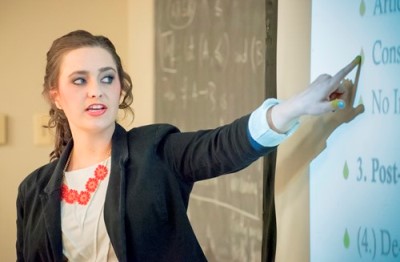 "Metacognition Regulation Intervention(s) in Undergraduate Science Course Instruction," and she utilized DePauw-specific data to address the need for the incorporation of metacognition in science literacy courses. Rachel's post-graduate plans include attending the Harvard Graduate School of Education for an Ed.M. in Mind, Brain and Education, and interning for the virtual non-profit, Project Giving Kids.