Education Studies Alumni
Marcus Dozier
Marcus Dozier, and Education Studies major and Art History minor, was attracted to the major after taking Issues and Trends in Education with Professor Rebecca Alexander. As a successful college athlete, Marcus had a career goal of working in the administrative end of athletics, possibly in an educational setting like college, and he felt a major in Education Studies would fit well with this goal. A few other of Marcus's favorite courses include The American High School, Exploring P-12 Institutes as Equitable Learning Environments, and Senior Seminar.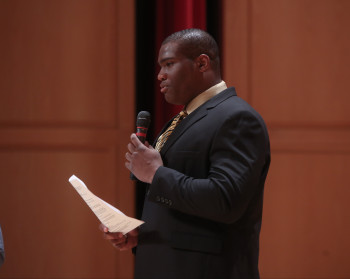 During his time at DePauw, Marcus was involved not only in athletics but in many leadership roles across the university. In athletics, Marcus excelled in track and field, setting records in both shot put and discus. He was a three-time All-American Athlete and a two-time Regional Athlete of the Year. In addition to athletics, Marcus held leadership positions in the Student Athletic Advisory Committee, Men of Excellence, and DePauw Student Government. He was also selected to work as an Admissions Ambassador, and after graduation, Marcus continues his leadership and service to DePauw by serving on the Alumni Board of Directors.
Following graduation, Marcus began work on his Masters in Educational Leadership at St. Lawrence University in New York. While there, he also works as a graduate assistant coaching track and field. Marcus plans to work in the area of athletics administration or possibly pursue his PhD in Sports Administration.