Get Out of Your Comfort Zone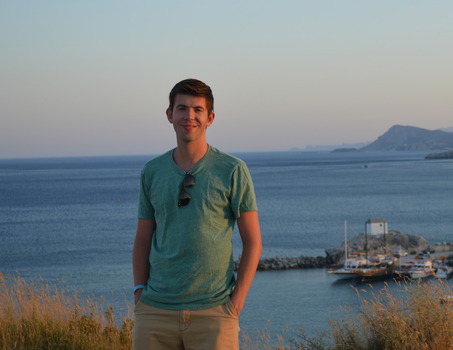 By David Tykvart '13, Fulbright ETA to the Czech Republic, Graduate Student at Tufts University
My DePauw experience was fundamentally about exploration and that is exactly what college is—it is a journey to discover new passions while building your skillset to solve complex problems. My time at DePauw taught me that languages and working with others is key to future success; that requires you to get out of the library and to step out of your comfort zone.
My DePauw experience started with the Servicio en las Americas program, undoubtedly the foundation of my international career. The adventure began in Quito, Ecuador, where I found myself quickly outside my comfort zone (have you ever eaten Guinea Pig?) Not only did this experience push me to see the world through a new lens and challenge my own beliefs, it reinforced the importance of language. And I am forever thankful.
At DePauw, I was a Political Science and Spanish Major, and Russian Studies Minor. I had semesters where I was going crazy accidently writing Russian Cyrillic letters into my Spanish exam and saying gracias instead of Спасибо ("Spasiba") in Russian class. But, my passion for language only grew stronger. Being able to speak another language not only helps you think in new ways, it makes it easier to create new relationships and opens doors you never knew existed.
At DePauw, my language study sent me to Latin America 3 times with the Servicio Program, gave me the opportunity intern with the US State Department in Peru, and with 100% certainty, made it possible for me to become a Fulbright Scholar.
During my year as a Fulbright ETA, I was selected to teach at one of the best language schools in the country because of my past language background in Spanish and Russian. I am now a graduate student at one of the top international relations schools in the world and my language background made it possible.
Learning languages at DePauw opened more doors than I could have ever imagined. But studying is not enough. You need to get out and interact, make mistakes, travel and then you'll truly learn. You don't have to camp in the Amazon or drink Snake Wine in Vietnam but you'll never know what you missed until you try: that requires you to step out of your comfort zone and be uncomfortable. You won't regret it.