Conflict Commons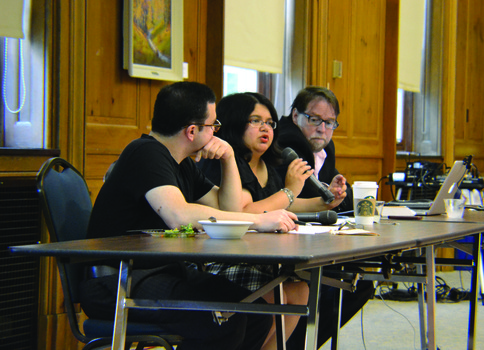 Conflict Commons is based on the idea that in order to develop a more thoughtful understanding of the issues involved with the study of conflict, we can and must organically develop a set of discussions that integrate the knowledge, skills, and abilities that we all have or are developing in the various conflict cross-listed classes we attend. Conflict Commons is a place where students and faculty can come together to discuss student identified issues and conflict related problems in theoretical and potentially practical ways.
Spring 2014
Afghanistan at a Crossroads: 2014
Karim Merchant

MEDIATION INNOVATION
Kim Van Valer and Marla Hylton
Fall 2013
"Indigenous People's Land Rights Panel"
Professor Rachel Goldberg and Professor Glen Kuecker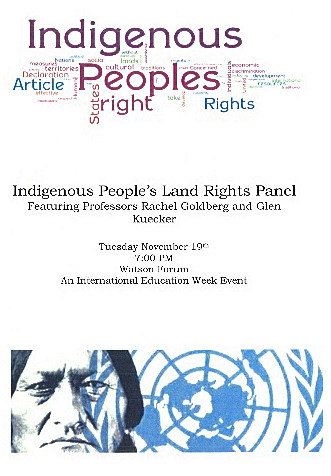 Strategic Peacebuilding: Bottom-Up Meets Top-Down"
Jayne Docherty
Unlike military operations, peacebuilding efforts have no central command structure. There is no "peace room" that is the equivalent of a "war room" for planning strategy and tactics. There is no central point for gathering information that would be useful for guiding decision-making. There are no widely accepted protocols or practices of peacefare that would be the equivalent of the strategies and tactics studied by professional warriors. One of the most difficult challenges in situations of long-standing conflict is coordinating peace initiatives that originate with civil society or grassroots actors and political peace initiatives that originate from governing elites. Based on her experiences in Myanmar and her conversations with peacebuilders working with other conflicts, Professor Docherty will reflect on ways that "top-down" and "bottom-up" peace efforts can be coordinated even without a "peace room" or a command-and-control structure.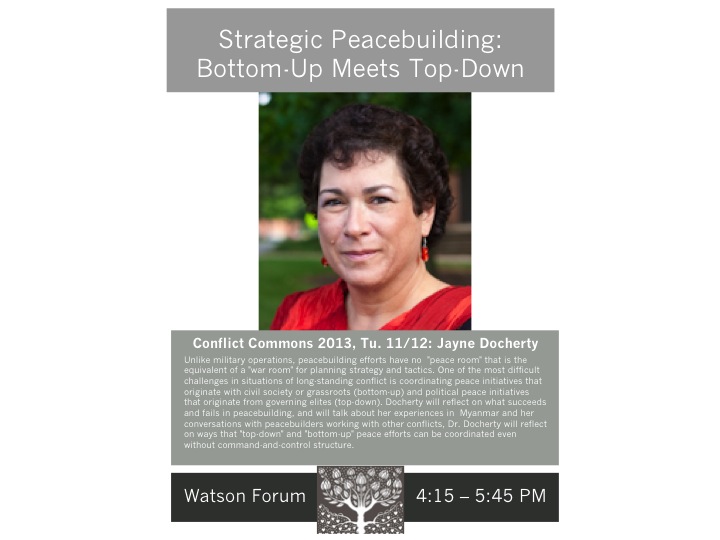 "The Power of Forgiveness"
Kalima Kizito talked about focusing on the cause and consequences of Rwandan Genocide and how victims of Genocide/other atrocities can move forward and live a normal life.
Kizito D. Kalima was born on 06/03/1979 in Nyanza, Rwanda to Denis and Cecilia Kalima. Kizito is the last born of ten, and comes from a long family tradition of community involvement. In 1994 the Kalima family was devastated by genocide. The family was separated, and many in the family, including Kizito's parents, died. Kizito managed to survive. Displaced by the genocide and without knowledge of surviving family members, Kizito found a refuge in sports. He played basketball in East African countries and was able to support himself in this manner. In 1998, Kizito was offered the opportunity to travel to the United States to participate in a basketball tournament. Upon participating in this tournament, Kizito was scouted by many colleges in the US. Having not yet finished high school, Kizito was offered the opportunity to attend Providence St. Mel High School in Chicago, Illinois. Upon completion of high school, Kizito went on to obtain a degree in Criminal Justice. Kizito has been working in Criminal Justice/Law enforcement/public safety and Social Services fields for more than a decade. Kizito currently serves as a Senior Case Manager for the state government sponsored program called
IMPACT, designed to help individuals with barriers such as a criminal record and financial hardship to achieve economic self-sufficiency through education, training, and job placement activities in Indianapolis, Indiana. Additionally, Kizito is the Co-Founder of Amahoro Project for Forgiveness and Reconciliation. A grassroots movement that is advocates for peace and forgiveness through Reconciliation. Kizito and his American wife have adopted two Rwandan teenage children, themselves Genocide survivors.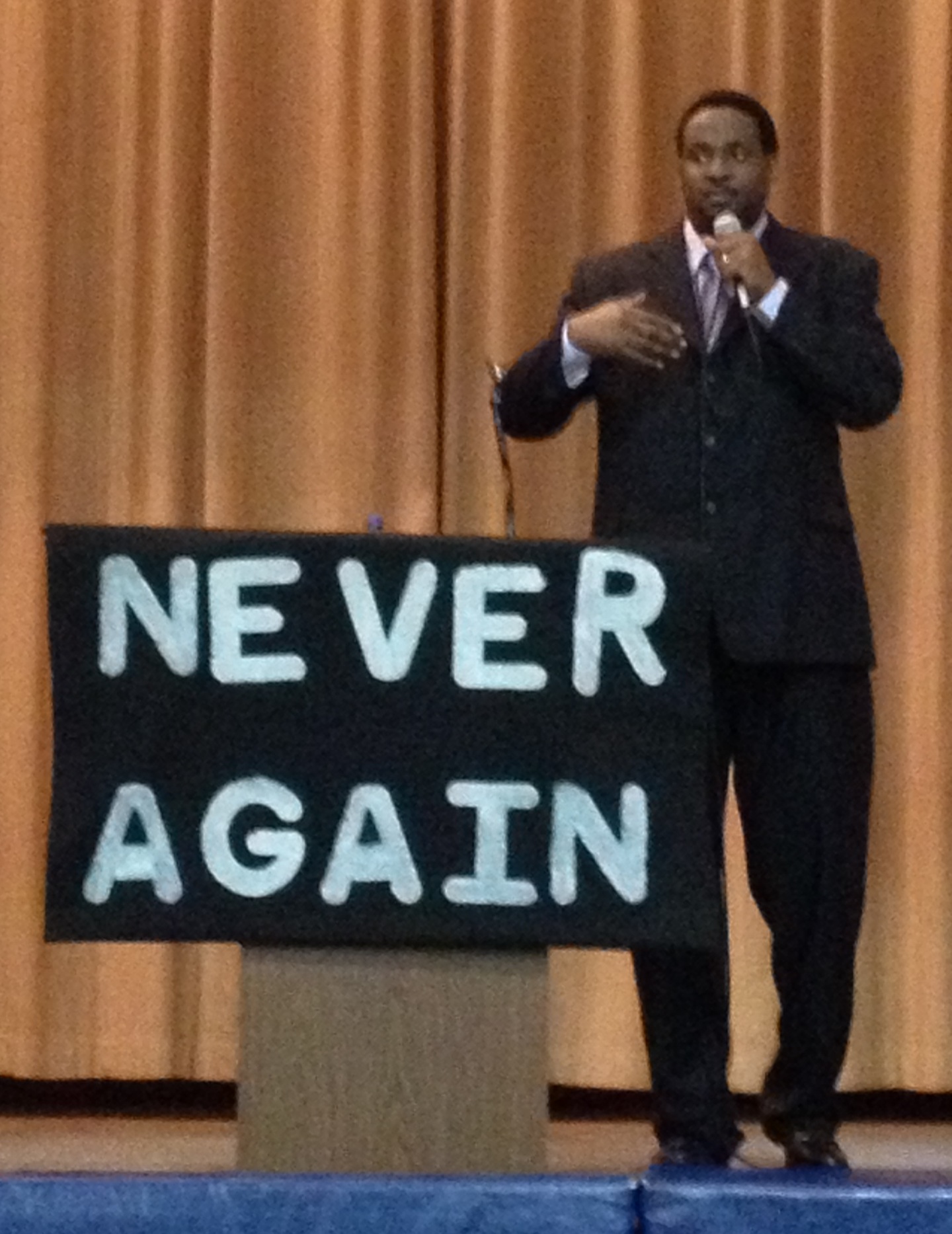 "The Syrian Conflict: A Panel Discussion"
Professor Brett O'Bannon, Professor Deepa Prakash,
Professor Daniel Gilman and Syrian activist Danny Salim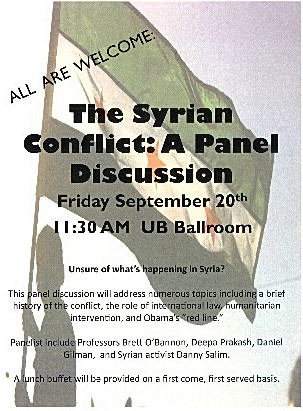 Spring 2013
"Facing Discomfort: Engaging Injustice"
Joy Meeker spoke on: Why discomfort is good for you: Learning from your emotional response to injustice.
Dr. Joy Meeker, Saybrook University Graduate School, mingles poststructural feminist insights and conflict theory to reclaim the social political force of emotions. Her research suggests that commonsense takes on emotions blunt their power to animate social justice, and she will discuss how alternative interpretations of emotions are critical for us to creatively respond to conflict and to nourish social change.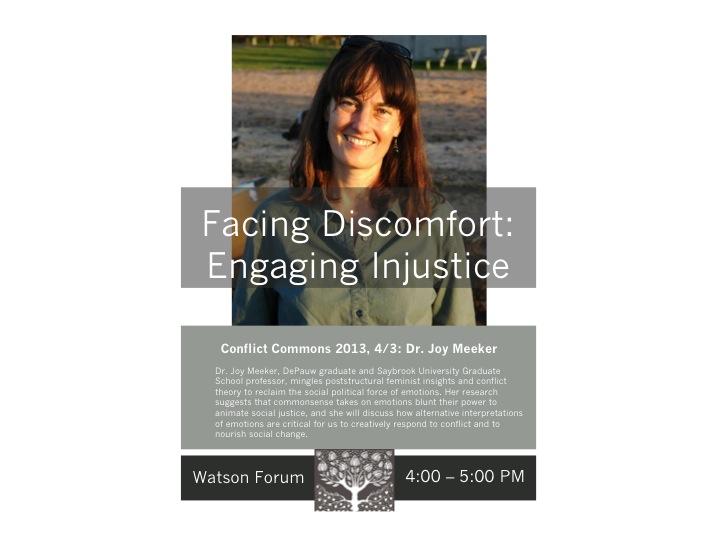 Fall 2012 Series
"My So-Called Enemy"
Monday September 10th at 7:00 pm, UB Ballroom, Lisa Gossels
On Monday September 10th at 7:00 pm in the UB Ballroom, award-winning activist documentarian, Lisa Gossels, will introduce, screen and conduct a Q & A on her film, My So-Called Enemy.The film tracks the experience of six young women (ages 15-18)—Palestinian and Israeli (Christians, Muslims and Jews)--who were brought together in 2002 by an organization called Building Bridges for Peace in the U.S. that is basically a leadership and peace-building program. These remarkable young women, obviously deeply committed to their countries, people, and cultures are given a space for dialogue; their conversations are often angry and painful as they move, tentatively, toward finding a common ground. All the things that divide them are raw, but getting to know their "enemies" also changes all of the equations. What makes this documentary distinctive is that the filmmaker follows the girls for a seven-year period—to a time well after their Building Bridges for Peace experience—as they transition into the worlds of college, the army, jobs, and partners. The audience is led to see how their relationships with each other, their ethics and ideals, and their commitment to the goals of peace are tested over time. It has been appropriately labeled a "guardedly hopeful" film.

How can you create social change with a CFT degree?
Stuart Schussler, 9/24/12, 11:30-12:30PM, Asbury 202
Stuart Schussler, DePauw Class of 2006 and a double major in Spanish and Conflict Studies, now works for Mexico Solidarity Network (MSN) in Chicago. Stuart says, "Here at Mexico Solidarity I coordinate and teach on our study abroad program in Mexico, which has a lot to do with conflict studies. For real peace (or "peace with justice and dignity" as the movement against the war on drugs in Mexico says), people must have access to housing, land, food, work, healthcare, and education, and to coordinate these things, self-government and autonomy are necessary.
Students on the study abroad program live with organized indigenous communities, peasant families, and urban housing movements that have taken amazing steps in building community and creating peace with justice and dignity. The idea of the study abroad program is one of "reverse service learning": students do the learning in Mexico, with these organizations, and then are expected to put the lessons to use through community organizing once they return home.

Peace-Building in a Pluralistic Interfaith World
George Wolfe, 10/4/12, 11:30-12:25 PM, 202 Asbury Hall
Professor George Wolfe, who served as Director of Peace Studies from 2002
to 2006 for Ball State University, and is now Coordinator of Outreach Programs for the Center for Peace and Conflict Studies, will discuss his experience with interfaith dialog and peace-building between religious traditions by focusing on common teachings, values and symbols that are shared by the great world religions.
He is the author of The Spiritual Power of Nonviolence: Interfaith Understanding for a Future Without War, which has been endorsed by Arun Gandhi, Bishop William E. Swing, and peace educator Michael N. Nagler. He is also a trained mediator and an ordained interfaith minister. In 1991 he was awarded an Open Fellowship from the Eli Lilly Endowment which made possible his first trip to India where he was introduced to the nonviolent philosophy of Mahatma Gandhi. He is also an accomplished classical saxophonist.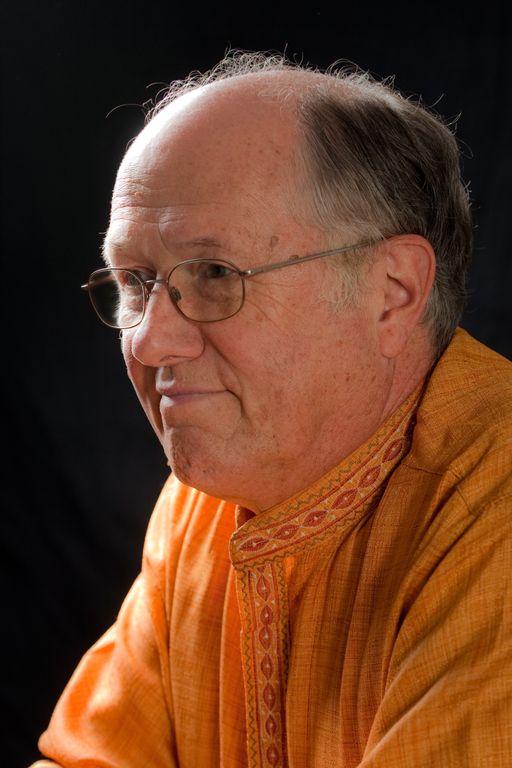 Peace and Reconciliation in Guatemala
Don Carlitos, 10/9/12, 11:30-12:30PM, 202 Asbury Hall
Don Carlitos (Carlos Escalante) works as the Intercultural Coordinator for Sustainable Development for Guatemala (DESGUA) and he is a Mayan spiritual guide. Mr. Escalante is also a collaborator on the book Manual de Política Cultura (Manual for Political Culture). Mr. Escalante's current work with DESGUA focuses on the holistic reintegration of migrant youth (under age 18) who have recently been deported to Guatemala and he coordinates intergenerational groups working on the topic of time and space in Mayan Cosmovision as part of the promotion of cultural policies to the wider public. Mr. Escalante has a Masters degree in Sustainable Development Management from Universidad Autónoma de Madrid and an undergraduate degree in Economics from Universidad de San Carlos de Guatemala (City).
He was also part of one of the two peace and reconciliation commissions in Guatemala.

Fall 2011 Series
9/14 Peter Komorowski: Conflict and Culture in the Afghanistan War
He brings an impressive background. Aside from his work as a soldier, and in counter terrorism for the last eight years, he has a Masters Degree in Security Studies from the American Military Academy.
He will talk about the cultural and political complexities that set the stage for the reception of American troops by Afghanis, how anti-Muslim acts in the U.S. impact soldiers on the ground, and will add many of his own stories from the war showing connections between culture and conflict on the ground.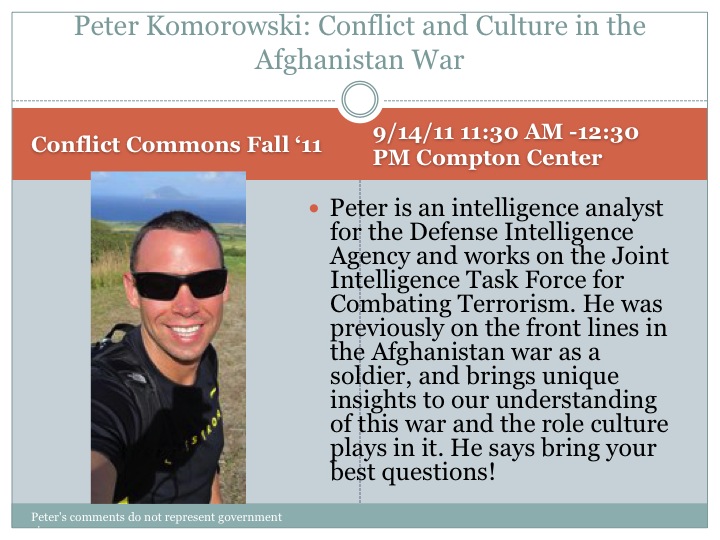 9/28 Cheryl Jamison: Working in the Field: What We Do
Our next speaker will be Cheryl Jamison, lawyer, mediator, Quality Assistance Director for the Maryland Mediation and Conflict Resolution Office (MACRO), where she's responsible for coordinating the statewide mediator quality assistance program. She's also Vice President at the key professional association for the Conflict Studies field, The Association for Conflict Resolution (ACR). (I put links to both on our Moodle site.) She has worked in the past as Management Analyst for the D.C. Department of Consumer & Regulatory Affairs and as Legislative Director for Congressman Alan Wheat.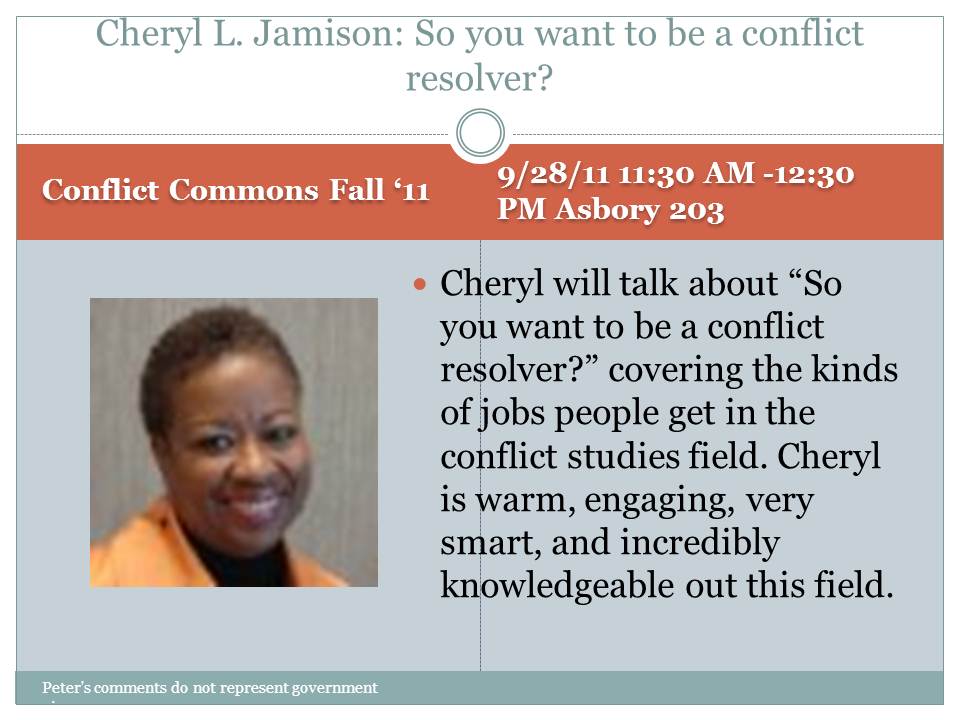 10/12 Marlon Peterson: Save Our Streets/The Interrupters
(Gang leaders as peacemakers in Crown Heights)
Program Coordinator for Youth Save Our Streets Crown Heights. SOS and Yo SOS has been doing incredible work to reduce violence and create a culture of nonviolence in what has been known as one of the most violent places in the U.S. Marlon started as a young person on a path of violence, and spent a long time incarcerated, so he deeply understands both sides of the issue.
10/26 Rachel Goldberg: Conflict in Relationships: How to stand up, be heard, and respect each other
Learn practical skills that can empower you to get more of your needs met, and support and protect your relationships.
What is the difference between success and failure at a job? How well you get along with your colleagues. Relationships? How well you communicate.
Learn how to engage conflict well and shift your conflicts for the better.
Dr. Goldberg has been active in the field of Conflict Resolution for over 25 years and is an experienced and proficient practitioner, scholar, researcher, teacher, and trainer. She is currently head of her own consulting business, RMG Resilience, and a professor at DePauw University.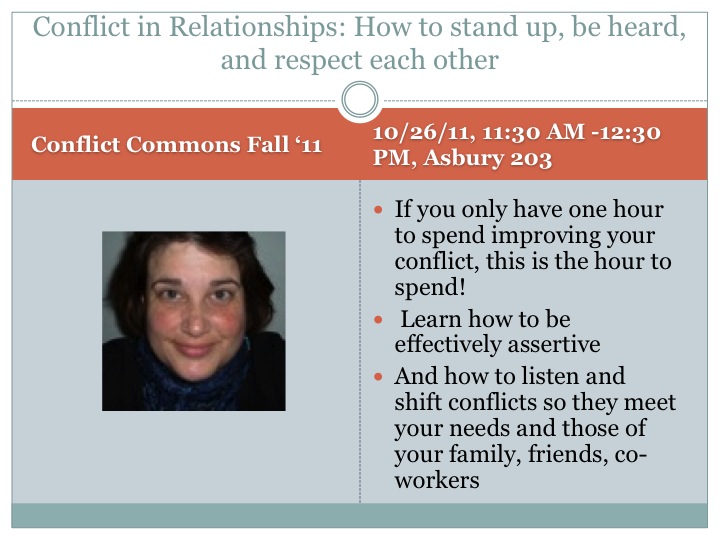 11/16 Henry Danbanemuya and Nicki Hewell and Alex Hellmuth: Conflict Minerals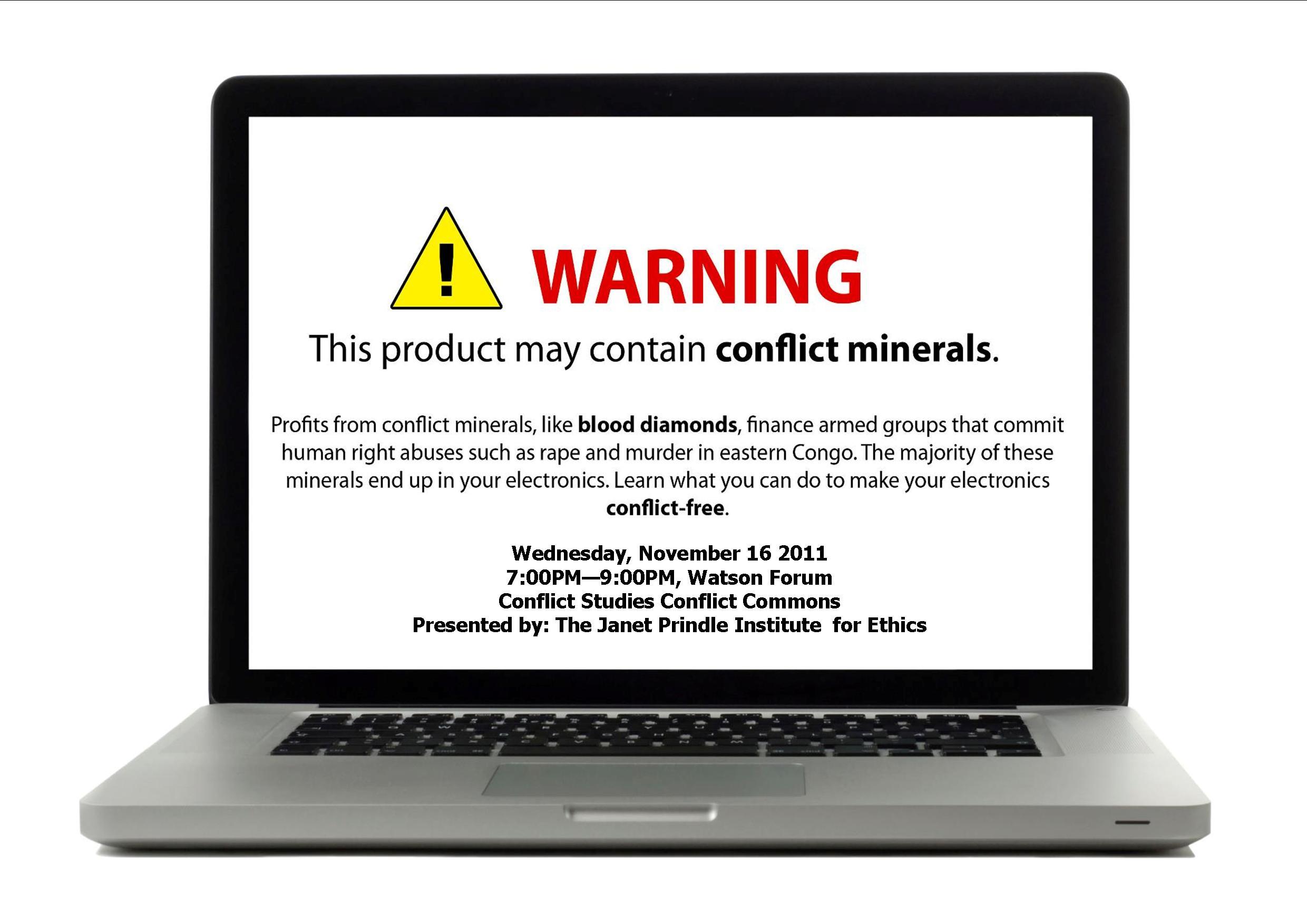 Prindle Institute along with Conflict Sudies hosted a panel of professors/experts who discussed the conflict and crisis in the Democratic Republic of Congo. The ongoing conflict in eastern DRC is the deadliest conflict in the world since WWII, claiming nearly 6 million lives. Minerals used to power our electronic products are fueling the violence through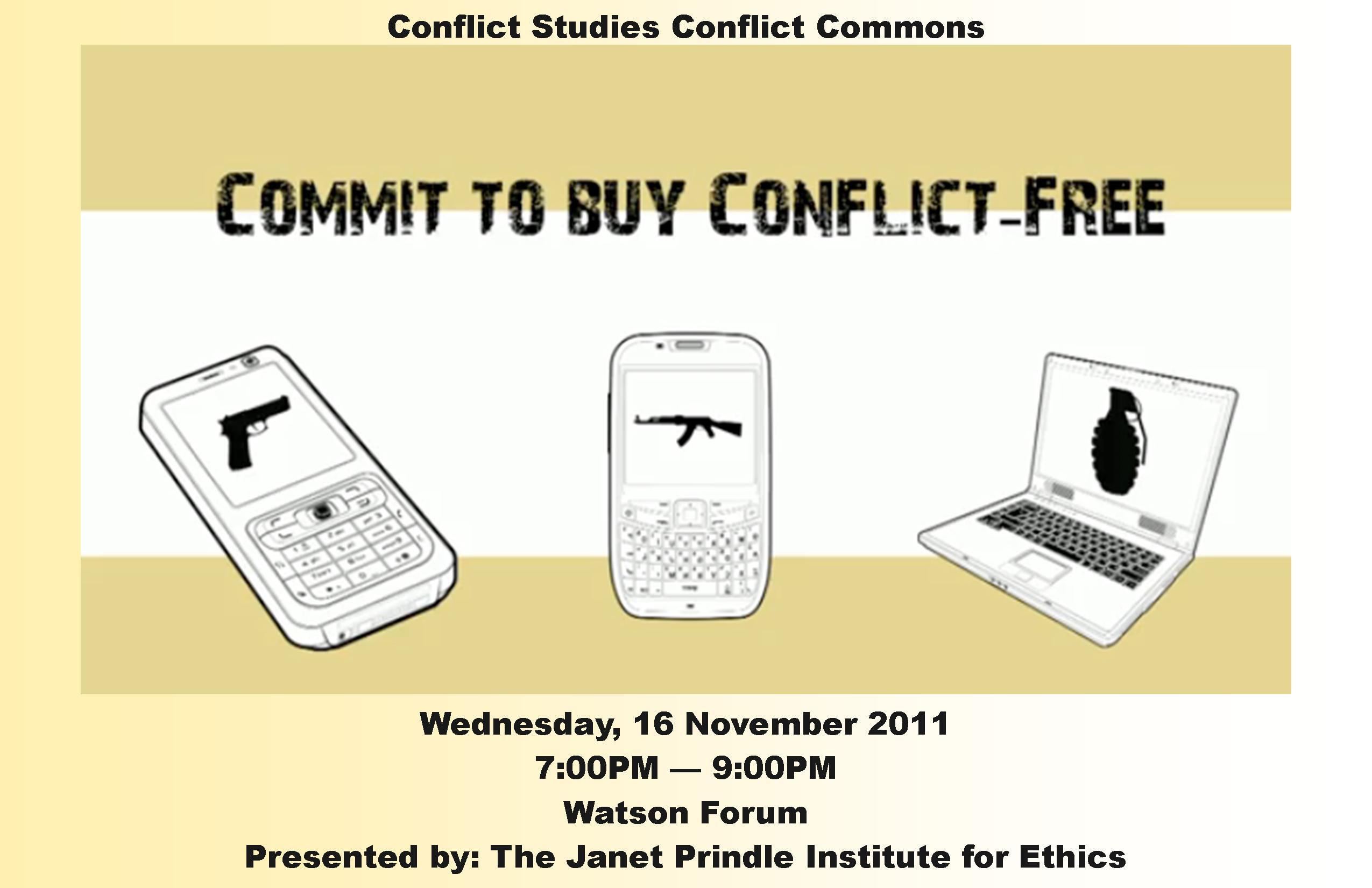 the illicit trade in conflict minerals.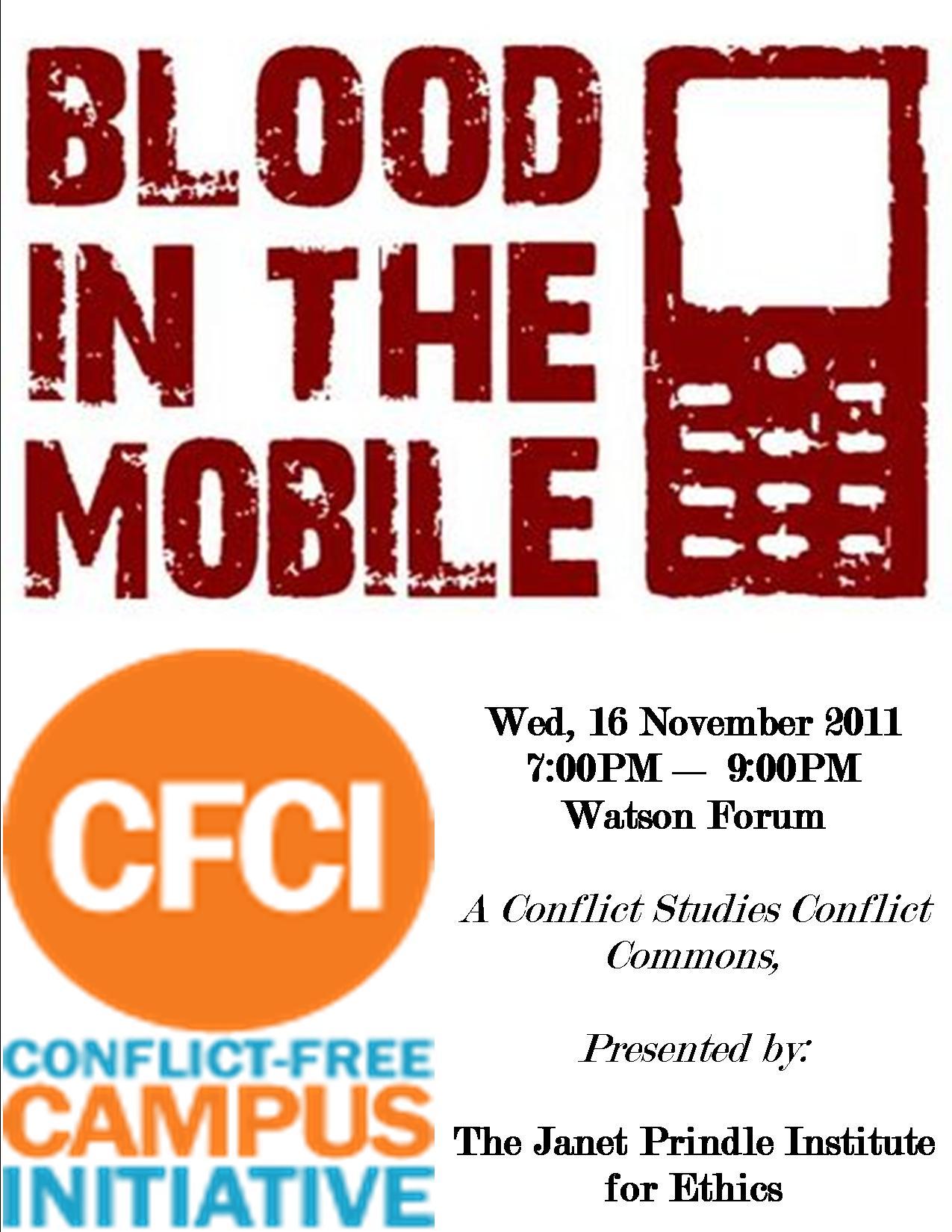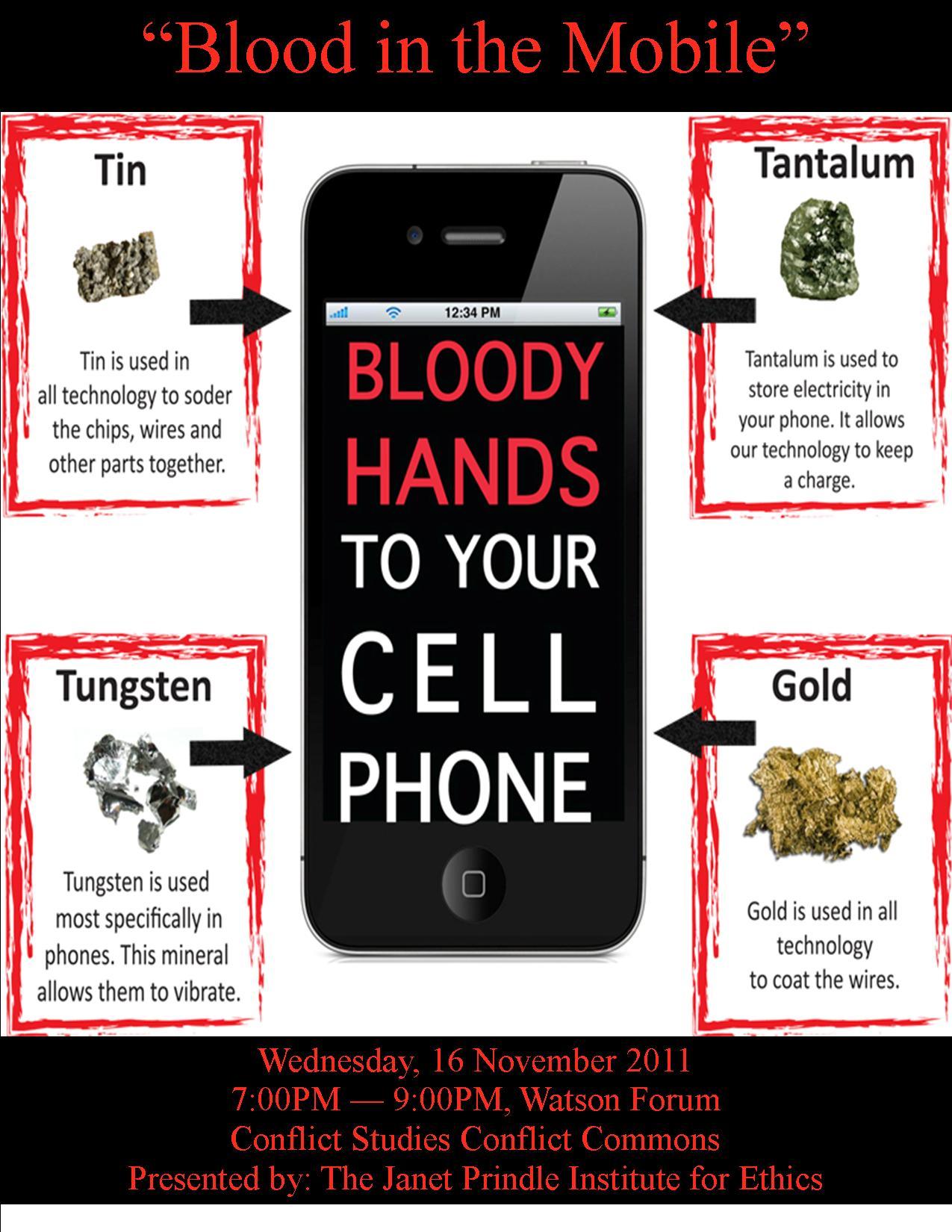 Spring 2012
Rais Bhuiyan: A man of peace
Poise and calmness accompanied Rais Bhuiyan as he approached the podium and he serenely gazed at the audience before expressing his understanding of hate and his passion for world peace.
A professional in the field of computer technology and founder of the World Without Hate organization, Bhuiyan spoke on Wednesday afternoon to an audience of roughly 70 people at DePauw University's Pulliam Center for Contemporary Media.

He discussed his experience as a victim of a violent hate crime, while explaining his journey as an educator of peace, and articulating ways to establish a world without hate. Bhuiyan confidently began his lecture with some words of advice.