Chapter 1 - The First Half Century
Physics has always been a part of the liberal arts tradition of DePauw University. The first catalog, issued in 1839 by what was then Indiana Asbury University, outlined a full college curriculum, with natural and experimental philosophy (physics, in modern parlance) taking up part of the junior and senior course of study.
At first, President Matthew Simpson, a largely self-taught Methodist minister and former physician, taught all of the courses except for languages. In 1840, however, the newest member of the faculty, William C. Larrabee, assumed responsibility for the natural science and mathematics courses. Larrabee was an Easterner who fell in love with the Indiana frontier; before coming to Greencastle, he served as a teacher and principal in New York, Connecticut, and Maine and had assisted in the first geological survey of the last state. The 1841 catalog speaks of the University's "large collection of minerals", many of which had accompanied Larrabee on his trek to the Midwest.
In 1842, another division of teaching responsibilities was made. Larrabee continued on the staff as professor of mathematics while Charles Downey, who had been a mathematics tutor, was promoted to professor of natural science. Downey was one of the first students to attend Asbury (he is listed as a junior in the 1839 catalog) but finished his education at Wesleyan University. He held the natural sciences chair until 1849, after which he went to Indianapolis to become professor of chemistry and pharmacy at the Central Medical College operated briefly by Indiana Asbury.
Joseph Tingley, an 1846 graduate of Indiana Asbury, replaced Downey as professor of natural sciences. Tingley and President Simpson were cousins, both coming from the same small town (Cadiz) in Ohio. In 1843, at a time when Tingley was contemplating a trip to Europe to study art, Simpson persuaded him to come to Asbury; so began a stay in Greencastle which spanned four decades and included a 19-year stint as vice-president of the university.
In Tingley's day, the professor of natural sciences at Indiana Asbury was expected to teach courses in chemistry, physics, physiology, astronomy, botany, zoology, mineralogy, and geology. The content of the course work in these subjects can only be guessed at from the rather sketchy catalog descriptions of that time. Courses were identified by title, topics, and textbook; for physics, we find references to the texts by Denison Olmstead and Benjamin Silliman, both standard introductory expositions of the subject. The book by Olmstead, for example, is a noncalculus, encyclopedic text which, in its organization and choice of topics, bears a fair resemblance to present-day introductions to physics. (Olmstead's text contains some interesting examples of outdated terminology, such as "living force" for kinetic energy.) Lectures and recitations based on these textbooks could be expected to provide the student with a solid background in the fundamentals of mechanics, optics, thermodynamics, and electromagnetism.
But physics is also an experimental science. To the credit of the early university trustees, it was recognized from the beginning that demonstrations of the practical applications of physical principles were an important part of the educational experience. The 1853 catalog reports that "the Chemical and Philosophical Apparatus has been made, by recent purchases, sufficiently extensive for all necessary illustrations. In this are embraced Electrical Apparatus of the most convenient and efficient forms, Pneumatic and Optical Apparatus, and a fine achromatic Telescope mounted equatorially..." (The telescope was manufactured by Henry Fitz of New York. The "Pneumatic" apparatus referred to here may be the Chamberlain air pump, built around 1850, which now rests in the basement of the Julian Science Center. Today the Chamberlain pump is a rare historical remnant of 19th century physics teaching.) The university collection of physics equipment slowly increased over the ensuing years, but there is no evidence that students engaged in individual laboratory exercises for some time. The apparatus were chiefly used for classroom demonstrations.
A major shift in the approach to science teaching at Indiana Asbury took place in 1879. In that year Tingley, whose frequent absences from campus on the lecture circuit may have lost him favor with the trustees, was summarily dismissed along with three other professors. His successor was John M. Mansfield, a graduate of Iowa Wesleyan who had taught natural sciences at his alma mater for 13 years and had recently traveled in Europe to study laboratory methods there. In the 1880 catalog he inserted the notice that "each student does his own experimentation for himself in all the laboratories." There is also an extensive listing of apparatus fabricated by students in the labs and shops, including a "Torsion Apparatus", "Atwood's Machine with Electro Magnets", and "Borda's Pendulum." In the next year's catalog Mansfield set forth instructions for organizing student lab reports along with a list of laboratory reference manuals such as Edward C. Pickering's Elements of Physical Manipulation.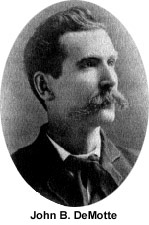 Increasing specialization brought about division of the chair of natural sciences into its various components. In 1881 Mansfield's title was changed to professor of physics and biology and the following year to professor of biology. Appointed to the new professorship in physics in 1882 was Asbury graduate John B. DeMotte, formerly principal of the preparatory department and an instructor in both mathematics and Latin. A man of many talents, DeMotte played the pipe organ, conducted the university orchestra, and earned one of the four pro merito Ph.D. degrees awarded by his alma mater. He led the new physics department through the period of transition from Indiana Asbury to DePauw University with great distinction, but resigned suddenly in 1891. Joining the Slayton Lyceum Bureau, he filled over 3000 lecture engagements in the United States and Europe over the next 25 years, speaking on such topics as "Electricity, Its Nature and Possibilities" and "The Princes of the Realm of Tone."
As the first full-time professor of physics at the university, DeMotte was responsible for developing the departmental curriculum, continuing the emphasis on laboratory experimentation begun by Mansfield. A basic one- semester course in physics was required of all students except those in the classical course, where it was an elective. Advanced courses in such topics as light, electricity and magnetism, and acoustics were also available, as well as a course in the theory of sound for music students.
With the introduction of a full elective system under the direction of President John P.D. John in 1890, a major and a minor in physics was created. The minor consisted of two courses in the fundamentals of physics and one course of general laboratory; the major added to these another semester of general laboratory plus either a laboratory course in electricity and magnetism or a more general course aimed at aspiring teachers. Students majoring in physics were expected to have a working knowledge of calculus, although no specific course requirements were established.
It is interesting to note that at this time the theoretical course in mechanics (today one of the core courses for physics majors) was taught in the mathematics department. DeMotte also employed student assistants in his courses in physics, the first being Cora Lloyd and William Stanton in 1884-85.
Preface Chapter 1 Chapter 2 Chapter 3 Chapter 4 Chapter 5 Physics & Astronomy Home