Resources for Students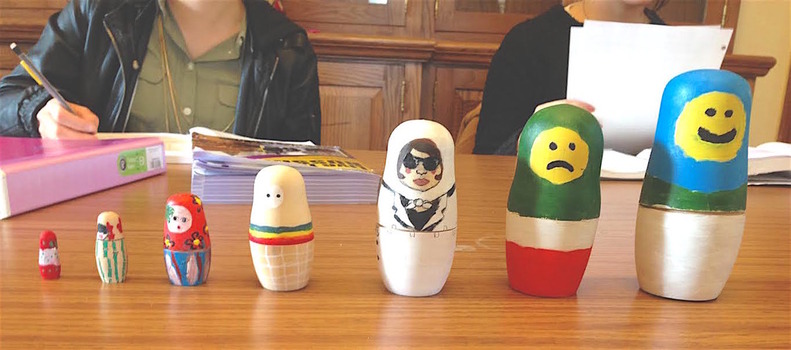 On Campus
The Russian Alcove
Located in East College on the third floor, this space is a wonderful quiet space available to all. Russian students use the space for Russian events, homework, or group meetings. The space is full of resources such as books, magazines, and dictionaries. It is also filled with pictures and Russian artifacts.
Activities
The Russian-language Table during lunch at the Hub and the Russian-language Tea in the afternoon at the Alcove (refreshments provided) are great opportunities to practice your language skills and/or ask questions in a more relaxed setting. There are also a number of other fun activities, related to food, such as shashlyk (Russian BBQ) and Maslenitsa ("Butter Week" – the week before the Great Lent).
Online
Russian Keyboard ( http://russian.typeit.org/
An online Russian keyboard for typing Russian characters on computers which do not have a keyboard for typing the Cyrillic alphabet.
The School of Russian and Asian Studies (http://www.sras.org)
Programs and financial aid for study abroad in Russia and Eurasia.
Russnet (http://www.russnet.org)
Russnet provides Russian-language information, language modules, courses, materials, in-service teacher training, databases, discussion forums, and gateways to other Russian language resources.
Beginning Russian Through Film (http://russian.dmll.cornell.edu/brtf)
An online introductory Russian course using more than 400 clips digitized from Russian film.
Russian Idioms Illustrated (http://idioms.chat.ru/)
Common Russian idioms explained and illustrated.
Learn Russian (http://learnrussian.rt.com)
An excellent online resource for learning Russian on your own. The website provides you with a progression of lessons, as well as video and audio material and online quizzes and tests, and a comprehensive database of grammar tables.