Gigi Jennewein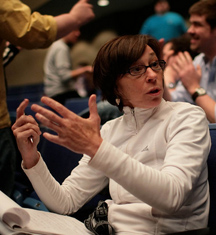 Gigi Jennewein has served the University in several capacities throughout her 22 years of living in Greencastle. She is happy to be back as a part-time Assistant Professor of Communication and Theatre, returning to a position she held for seventeen years before "graduating" to explore alternatives. Those included two years as DePauw's Coordinator of Community Service and Outreach where she focused on connecting student academic interests with community needs, and serving as Chair of Theatre at the Patel Conservatory at the Straz Center for the Performing Arts in Tampa, Florida. Jennewein is also the former Coordinator of Arts Publicity and Marketing for DePauw. During her term ArtsFest became a University institution and the Student Arts Council was founded.
Jennewein teaches theatre performances classes and directs productions. Her favorites include Sarah Ruhl'sEurydice and Suzan-Lori Parks' Venus, as well as the first-ever DePauw production of The Vagina Monologues. She was instrumental to the founding of and has co-taught the community-outreach course, Fall Festival of Shakespeare, now in its 5th season.
Also a professional actor and director, Jennewein's professional theatre credits include work with the Indianapolis-based Phoenix Theatre where her many engagements include directing the Indiana premiere of The Vagina Monologues and performing in last season's Tribes by Nina Raine. She has also appeared on stage at the Indiana Repertory Theatre, the Brown County Playhouse, and Indiana State University's Crossroads Repertory Theatre. She currently moonlights as an acting instructor for Indianapolis Repertory Theatre teaching classes for high school students and adults.
Jennewein is an active supporter of the local community: she is currently a Putnam County Museum board member, she served on the Main Street Greencastle board for several years and is a past president, she owns an historic building on the downtown square that supported the student-run Low Road Gallery for six year, and she is a founding member of the Greencastle Arts Council.

Before first coming to DePauw in 1992, her endeavors included an apprenticeship with the Actors Theatre of Louisville, founding a theatre company and serving as costume designer/shop supervisor at the University of the South/Sewanee, lecturing in Theatre at Indiana State University, and director of the theatre program at Rose-Hulman Institute of Technology.

Jennewein holds a BA from Northwestern University in Communication Studies and her MA in Theatre from Indiana State University. Her research interests include the theory and methodology of Augusto Boal, Anne Bogart's Viewpoints, and the voice and movement training approaches of Kristin Linklater/Shakespeare & Company and Arthur Lessac.