Battey National Educator Award
This Award has had a wonderful effect on Senior Honor Scholars, prompting them to reflect on their intellectual roots and on the road they have traveled from high school to where they are today.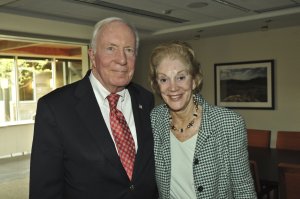 The Charles and Joan Westmen Battey National Educator of the Year Award is administered by the Honor Scholar Program thanks to the generosity of Mr. and Mrs. Charles Battey. Joan Westmen Battey, a graduate of the DePauw Class of 1954, and her husband Chuck, established the Award in 2008 as a way to acknowledge, recognize and thank educators who have made a difference in the lives of DePauw's students. During the fall semester, Senior Honor Scholars are invited to submit brief essays nominating a high school teacher who inspired them profoundly during their high school years and continues to have an impact on their intellectual curiosity. The Award entails a cash prize for the winner, as well as monies for the high school, to be spent on the winner's recommendations. The Honor Scholar Program also prepares a plaque for the winner and for the principal so that the Award recipient may be recognized within his or her high school.
2020 Charles and Joan Westmen Battey National Educator:
Mr. Nicholas Freeman of Minnehaha Academy in Minneapolis, MN
An excerpt from Margot Leiner's (Class of 2020) nominating essay:
"Freeman taught me diligence, commitment, teamwork and the confidence to be vulnerable—whether in front of a single person or a crowd of hundreds of people. He created an environment where I felt comfortable being my complete self, and I felt supported even when I made mistakes. I was taught about the importance of communication, whether that be in the form of eye contact and effectively delivering a message non-verbally or in the form of clear articulation. Freeman impacted every day of my high school experience and taught me lessons that I will never forget."

An excerpt from Nicholas Freeman's teaching philosophy:
"When students understand the value of their voice and are allowed to share, it deepens the teacher/student connection needed to create the multiple layers of learning storytelling. Trust is established through shared ideas, empathy, and affirmation. This is key when encouraging students to take risks, allowing them to fail and to learn from one another. Oftentimes, sharing comes at the expense of mistakes and failures. When this is the case, humor is involved and walls are broken down. This community of laughter and learning throughout our process increases our connections thus our work can go deeper. Humor and humility go a long way."
Pictured above right: Charles and Joan 'Westmen' Battey