Battey National Educator Award
This Award has had a wonderful effect on Senior Honor Scholars, prompting them to reflect on their intellectual roots and on the road they have traveled from high school to where they are today.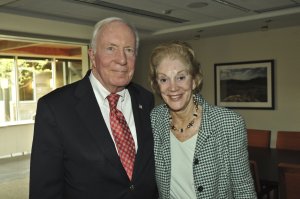 The Charles and Joan Westmen Battey National Educator of the Year Award is administered by the Honor Scholar Program thanks to the generosity of Mr. and Mrs. Charles Battey. Joan Westmen Battey, a graduate of the DePauw Class of 1954, and her husband Chuck, established the Award in 2008 as a way to acknowledge, recognize and thank educators who have made a difference in the lives of DePauw's students. During the fall semester, Senior Honor Scholars are invited to submit brief essays nominating a high school teacher who inspired them profoundly during their high school years and continues to have an impact on their intellectual curiosity. The Award entails a cash prize for the winner, as well as monies for the high school, to be spent on the winner's recommendations. The Honor Scholar Program also prepares a plaque for the winner and for the principal so that the Award recipient may be recognized within his or her high school.
2022 Charles and Joan Westmen Battey National Educator:
Mr. Dwight Jennings, Brooklyn Collaborative, NYC
An excerpt from Mahogany Brim's (Class of 2022) nominating essay:
"Even before I was officially his student, Dwight created a safe space for me and other students within his classroom. He would allow us to spend lunch period in his classroom, eating, talking, and reading. He was also one of the only Black teachers in a school where 96 percent of the students are Black and Hispanic. To some, that information may seem trivial but it does matter. Dwight was the only teacher that could really connect and relate to us. We respected and listened to him because he made us feel seen."
An excerpt from Mr. Jenning's teaching philosophy:
"While there are many philosophies a teacher must embrace to be successful, the most important is to just be. Be courageous enough to allow students to know the real you. Be willing to empower them to share the parts of themselves that they sometimes feel the need to hide. Be worthy of their confidence and trust. Be vigilant for the spontaneous opportunities that present themselves to be relatable. Be a believer in their potential and your ability to help them achieve it when setting expectations. Be perceptive enough to know when something is wrong so that you can always be ready with an ear and a shoulder to support them. Be in love with what you do so that they will love what you are doing. Finally, be yourself."
Pictured above right: Charles and Joan 'Westmen' Battey