Alicia Whitney '13
Alicia Whitney is a senior biology major from Madison, Indiana. Alicia came to DePauw with a mixture of career ideas. "When looking at DePauw, I seriously wanted to pursue a career in environmental research. However, I was also strongly interested in going into the medical field." To help her make up her mind, Alicia began taking a wide variety of science courses at DePauw, and by the end of her freshman year, she became inspired to give research a try.
"Not having any prior experience in a serious research lab, I decided to apply laterally into the Science Research Program which I knew would be a great experience for me and would help me with my decision."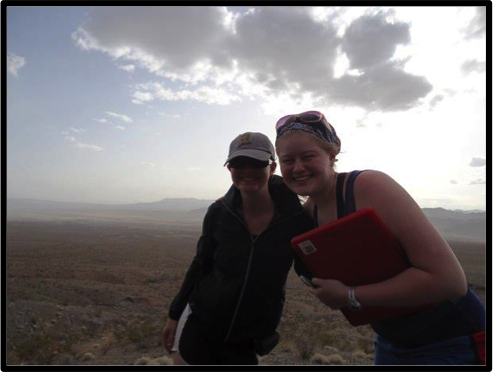 Since joining SRF, Alicia has worked in three different labs under three different professors. Just beginning to delve into research, she worked under Professor Dina Leech studying the effects of atrazine on freshwater plankton. "Atrazine is a component of several fertilizers and, like BPA, has been linked to endocrine disruption. I really enjoyed this project because it was so environmentally focused and applicable to Indiana. We are surrounded by crops, and if this fertilizer runs-off into water-sheds, it could be creating severe damage to local ecosystems."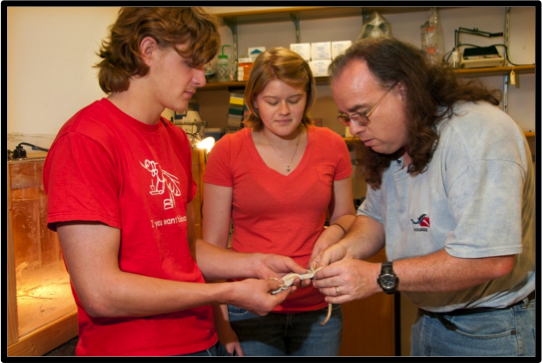 While this research was very interesting, Alicia still could not decide if it was her calling. So when deciding which research project to join for her ten week internship at DePauw, she was drawn to Professor Kinney's research, a project determining what cytokines are responsible for febrile responses in ectothermic species. It is well known in science that Interleukin-1 is the fever inducting cytokine in mammals. However, little is known about the signally methods that induce fevers in ectothermic animals. Ectothermic animals mammals can both manually lower and raise their body temperatures but what informs them that they have a temperature and need to bask in the sunlight?
While working with Professor Kinney that summer, Alicia and her colleague, Ethan Hindsley, were so interested in continuing their research that they both worked with Kinney for the following fall and spring semesters. However, it was during this research experience that Alicia got her first taste of the inevitable research frustration.
"We were so excited because at the beginning of our experiment, our desert iguanas reacted to a specific cytokine, implying that this cytokine was involved in their febrile response mechanism. However, no matter how many times we repeated the experiment, the lizards never responded to it again and none of the following cytokines we exposed them to worked either. It was great to work with the iguanas though, and we still visit and help take care of them."
While Alicia greatly enjoyed her work on cytokine research, she began to realize her passion involved environmental research. She was very interested in understanding anthropogenic impacts on ecosystems and promoting environmental ethics, renewable resource management, alternative energies, and preservation of ecosystems and habitats. With this interest in mind, Alicia decided to work with Professor Ken Fortino doing research on interactions between biodiversity and carbon cycling in the DePauw Nature Park Quarry Pond.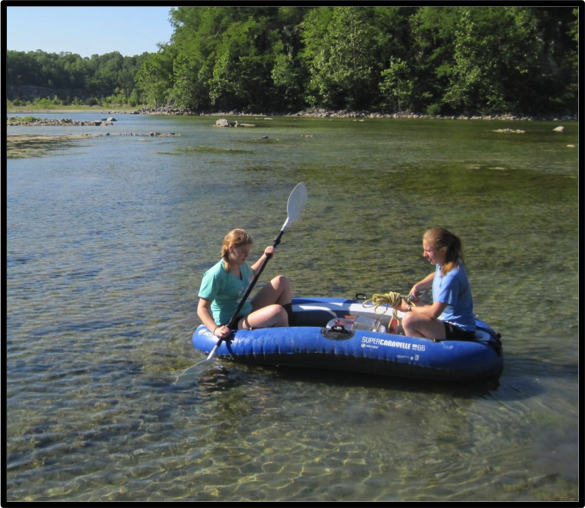 Alicia explained that there is a pressing need to understand the factors contributing to climate change. Regional carbon cycling is affected by small ponds since terrestrial plants remove carbon dioxide from the atmosphere and store it as organic matter in their tissues. When the plants surrounding the ponds die or shed their leaves, that organic matter tends to fall into the ponds. In the ponds this organic matter will either be broken down and its carbon restored to the atmosphere in the form of carbon dioxide, or it will remain at the bottom of pond, stored until it is disturbed.
Following her research, Alicia and her fellow colleague concluded that functional diversity within the Quarry Pond chironomid (fly larvae) community did significantly impact organic matter break down by increasing sediment oxygen demand.
"It was the perfect project for me! I loved getting to work both in the field and the lab. Plus, I ended up getting really interesting results and I learned a lot! I have found that I have learned more by practically applying my knowledge from textbooks, than from the actual textbooks themselves. Research has allowed me experience that, and now I know what particularly I want to devote my life too."
While at DePauw, Alicia has served as both Secretary and Vice President of the DePauw Environmental Club. Today, she is the current undergraduate intern for the DePauw Office for Sustainability which allows her channel her creativity and scientific knowledge into developing, supporting, and advocating the current and future ecofriendly programs to the DePauw community and informing students about environmental hazards and how they can be more environmentally conscious.
Alicia plans to continue her pursuit in research as a career and wants to explore how she can best make a positive impact on the environment