Allana Johnson
Senior Computer Science major Allana Johnson arrived at DePauw in 2009 with several thoughts and goals in mind: make new friends, have fun, and learn a lot without taking any science classes (unless they were math related).
"I didn't come to DePauw interested in computer science, but because DePauw encourages students to take a wide array of classes, I took a computer science class and loved it." Johnson states that she was interested in pursuing a Mathematics degree to become an Actuary. "Looking back, I thought being a math major sounded more interesting than it actually was to me. I was always good at math but it wasn't what I wanted to study for four years. I didn't belong there. Computer science has been a much better fit."
Johnson states that as a high school senior in Anderson, Ind., she had her college career planned out – until she visited DePauw. "I fell in love with the place. I had a full-tuition scholarship to go to Butler University, and I turned it down. My parents asked, more than once, 'Are you sure?' I was positive. I have no regrets."
As a lateral entry student into the Science Research Fellows program, Johnson has been afforded the opportunity to participate in two summer research projects with two great DePauw Computer Science faculty members. Her first research experience, in the summer following her sophomore year, was under the supervision of Dr. Dave Berque with four other computer science students—Jacob 'Jake' Meyer, Reid Conner, Vedant Singhania and John 'JD' Hoover.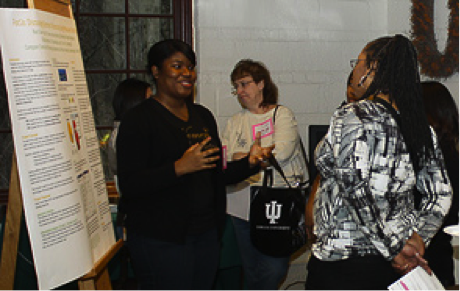 "Our project was to create a program to discourage users from electronic distractions using persuasive technology," she explains. "For example, when you are working on a research paper on your computer, an electronic distraction may be checking email because it is an unrelated task. Our program would detect this distraction and use tools, such as pop-ups, that would persuade the user to get back on task.
"In order to gauge the effectiveness of our program, we conducted a field experiment in which students used our program and gave us feedback." "Overall, we found that our project would be effective and that students would be willing to use it."
Because of this experience, Johnson was able to present her research at the 2011 Argonne Undergraduate Symposium in Chicago, Illinois and was encouraged by Computer Science professor Gloria Townsend to present her research at the Indiana Celebration of Women in Computing Regional Conference in Spencer, Indiana. By presenting her research poster, she was entered into the poster competition among many other women in computing from schools such as Indiana University, Purdue University, Rose-Hulman Institute of Technology as well as other women from DePauw. Johnson received the award for Top Undergraduate Research poster and granted a full scholarship to attend the Grace Hopper Celebration of Women in Computing National Conference in Baltimore, Maryland that will take place in Fall 2012.
Johnson says the computer science department at DePauw is small, but opportunities – such as attending the conference – are great. "There are, I believe, six other female computer science majors in the class of 2013," Johnson explains. "Having the chance to see so many women involved in computer science at the graduate level and in industry is empowering."
During the summer of 2012, Johnson worked with Professor Khadija Stewart and students John 'Gus' Wigen-Toccalino, Siddharth Chaubal, Yechan Hong, and Mengxiao Han on a project entitled "B-hive: Making Social Networks PG-13" with a goal of addressing the issues of cyberbullying among teens using social networks such as Facebook. The team saw a need and devised a possible solution. "We all had experiences with cyberbullying in our own ways, and wanted to do our part to help others overcome," Johnson says. Her previous research experience was very useful among a team that had no previous research experience and her leadership skills developed as a result.
Opportunities through DePauw, the Computer Science department and SRF have been plentiful and gratifying. "As a freshman, I would have never imagined accomplishing so much through scientific research and other extracurricular activities," Johnson reveals. "Having these enriching experiences has helped me gain a better understanding of what I want to do after I graduate [in Spring 2013]." Johnson plans to attend graduate school with hopes of combining computer science with education studies. "Most people assume that I want to teach and I know I would potentially like to teach high school students, but I am more interested in creating educational software. I feel that I will be able to impact more students and that's my overall goal."