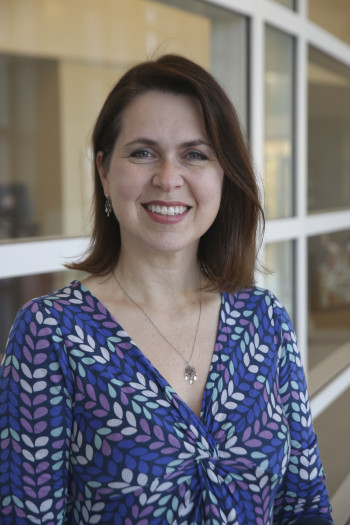 Amanda Hopson is Senior Staff Accompanist and Coordinator of Keyboard Studies at DePauw. She began accompanying at the age of ten and has performed and recorded with vocalists, instrumentalists, and choral groups for over forty years.
Called "a rare jewel" by esteemed choral conductor Jan Harrington, Amanda was one of the early accompanists for the Grammy-winning choir Conspirare and has performed under the baton of esteemed conductor Joseph Flummerfelt, '58. She has performed as master class accompanist for numerous vocalists, such as Frederica von Stade, Elly Ameling, Adam Guettel, Jake Heggie, Nathan Gunn, Stephanie J. Block, Laura Benanti, and Alice Ripley. She has also been heard in concert with former King's Singer baritone Gabriel Crouch and dramatic soprano Lise Lindstrom.
In 2013, she released a Centaur Records recording with tenor Kerry Jennings entitled In My Memory: American Songs and Song Cycles, featuring works by Libby Larsen, Tom Cipullo, Lori Laitman, and Richard Pearson Thomas. The CD was favorably reviewed, with Hopson described as, "an equally fine musician, finding the character of the various accompaniments to perfection," and the CD itself as "not to be missed." Libby Larsen chose this performance of her cycle My Antonía as the reference recording on her website.
Amanda particularly relishes performing works by contemporary composers and has enjoyed the opportunity to work with many who have been in residency for DePauw's annual Music of the 21st Century festival, including Joan Tower, John Corigliano, Libby Larsen, Jake Heggie, and Bright Sheng. Along with colleagues Kerry Jennings (tenor) and Tarn Travers (violin), she recently premiered a new arrangement of composer Lori Laitman's Vedem Songs, and together with soprano Amy Hayes ('05) she performed Dominick Argento's operatic monodrama Miss Havisham's Wedding Night as part of IndyFringe's 2013 festival.
Amanda graduated summa cum laude from Augustana College in Rock Island, IL with a Bachelor of Music in piano performance, and she earned the Master of Music and Doctor of Musical Arts degrees in piano performance from the University of Texas at Austin. She studied piano with Mary Gibbs, Sharon Kleinhuizen Jensen, and Danielle Martin and did her pedagogical training with Amanda Vick Lethco and Martha Hilley.