balensue@depauw.edu • (765) 658-4398 • Green Center 1105
OFFICE HOURS: by appointment
Hours On-Campus: by appointment
Preferred Method of Contact: Email
C. Matthew Balensuela earned a BM from the Juilliard School in saxophone performance, MMs in both music history and woodwind performance from Bowling Green State University, and a PhD in musicology from Indiana University, were he studied with Dr. Thomas J. Mathiesen. He has also taught at the University of Oklahoma, Indiana University and St. Mary-of-the-Woods College.
Balensuela has taught a variety of classes for both music majors and students in the College of Liberal Arts. In the School of Music his recent classes include Survey of Music History I, Senior Seminar, God and Music in the Eighteenth Century, Debates in American Music c. 1900, as well as classes on Beethoven, Mozart, and DuFay. In the College of Liberal Arts his classes have included Music Appreciation, Fundamentals of Music, and Winter Term courses on creativity.
His research interests include early music theory, pedagogy, and popular music in the early twentieth century. He is the co-author with David Russell Williams of Music Theory from Boethius to Zarlino: A Bibliography and Guide (Pendragon Press, 2007), which won the Duckles Award from the Music Library Association, and is the editor and English translator of the fourteenth-century treatise Ars cantus mensurabilis mensurata per modos iuris (Nebraska, 1994). His articles and reviews on early music history and theory have appeared in Grove Music Online, Acta Musicologica, and The Journal of Musicological Research and he has presented papers at the Medieval Academy of America and the International Musicological Society.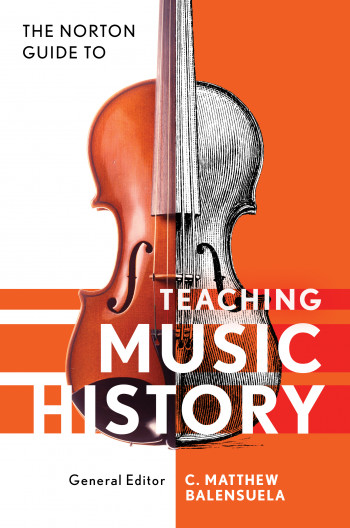 Balensuela was the general editor of the Norton Guide to Teaching Music History (2019) and served as the founding editor of the Journal of Music History Pedagogy (2010-14). His articles on pedagogy have appeared in Vitalizing Music History Teaching (ed. J. Briscoe, 2010) and Musica Docta, and he has presented pedagogy papers to the College Music Society and Saggiatore musicale (Bologna).
In jazz and popular music he has written essays for the Routledge Companion to Popular Music (ed. Kitts and Baxter-Moore, 2019), Journal of Jazz Studies, Fontes Artis Musicae, as well as papers on popular music for the American Musicological Society and the Popular Culture Association/American Culture Association.
Appointed 1991, Balensuela was named a Distinguished Professor for 2003-2005 in recognition of sustained excellence in teaching effectiveness and service.