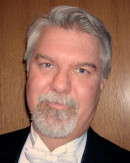 Davis Brooks comes from a diverse musical background as soloist, pedagogue, orchestral musician, studio musician, concertmaster on Broadway, conductor, and chamber musician. His teaching experience has included faculty appointments at Baylor University, Wayne State University, the University of Wisconsin at Eau Claire, Bucknell University, and Butler University, where he is Professor of Violin Emeritus. Dr. Brooks also held the 2015-2016 University of Alabama School of Music Endowed Chair in Music Composition.
Having recently served as Associate Concertmaster of the Indianapolis Chamber Orchestra for fifteen years, Dr. Brooks was also a member of the Mostly Mozart Festival Orchestra at Lincoln Center for ten years. For nineteen years, he played in the New York Chamber Symphony, which produced over twenty critically acclaimed recordings during his tenure. Dr. Brooks has been concertmaster of the Chamber Orchestra of New England, the Harrisburg Symphony, and the Waco Symphony. He performs frequently with the Indianapolis Symphony Orchestra, and is active in the many commercial recording studios in the Indianapolis area.
Dr. Brooks has recorded four solo CDs. Early Musings features solo music written for him by ten Alabama composers. Two of the four include music for violin plus electronics, and include music by composers such as Filipe Leitao, Patrick Long, Otto Leuning, James Aikman, James Mobberley, and Frank Felice, as well as a CD of the violin music of composer C.P. First. Other recordings include Reflection on a Hymn of Thanksgiving by Frank Felice, With Every Leaf a Miracle by Mark Schultz, Manunya by Frank Glover, and the Kodaly String Trio with violist Csaba Erdelyi and violinist Vasile Beluska. Dr. Brooks has concertized in China, Japan, Europe, and South America.
At Yale University, where he received a master's degree in violin performance, Dr. Brooks studied with Broadus Erle and Syoko Aki. His doctorate, also in violin performance, is from the State University of New York at Stony Brook. Other important teachers with whom he has studied include Joyce Robbins, George Neikrug, Russell Hatz, and Raymond Page; he has studied chamber music with Julius Levine, Josef Gingold, Aldo Parisot, and members of the Tokyo, Alard, and Guarneri Quartets.
Chamber music is his first love. He has been a member of the Indianapolis Chamber Players, the Commonwealth and Landolfi Quartets, as well as the Meridian and Essex Piano Trios. In addition, Dr. Brooks' special interests include both the performance of music by contemporary composers and performance on original instruments, particularly the music of the Baroque period. He is a founding member of both the Chicago 21st- Century Music Ensemble and the Indianapolis Baroque Orchestra. Recording four CDs with the progressive rock band The Psychedelic Ensemble has been a most pleasurable diversion, as has performing with the Indianapolis band Progressive Lenses. Oddly his favorite color has changed from blue to green in the last decade, and he enjoys a good cup of coffee.