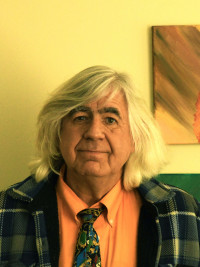 Ed Staubach first taught the String Techniques class at Depauw in 2012 after teaching instrumental music in Cincinnati and central Indiana for close to 40 years. He has his Music Education degree from the University of Cincinnati Conservatory and a Masters in Music History and hours in string education from Butler University. His last 23 years of orchestra teaching was in Pike Township in Indianapolis where he taught six orchestras in the high school for 13 years and then 10 years at the middle school, teaching some 220 string players there. During these years he also conducted regional and festival orchestras in Indiana and Kentucky and conducted the Kentucky All State Commonwealth Strings at the Kentucky Music Educators convention.

Ed directed the Athenaeum Turners Orchestra from 1980-1992 in over 150 concerts and has guest conducted various community orchestras in central Indiana. He presently directs an 80 member volunteer orchestra that performs 12 or 13 concerts annually in retirement villages. He
served as principal clarinetist with The Carmel Symphony for 17 years, and has performed as an extra or sub with the Indianapolis Symphony and orchestras in Terre Haute, Columbus, and Muncie. Ed has performed concertos on the clarinet with the Philharmonic Orchestra of Indianapolis, the Carmel Symphony, the Butler University Orchestra, Butler Wind Ensemble, Indianapolis Symphonic Band, the Cincinnati Community Orchestra, and on recorder with the Indianapolis Symphony Orchestra and the Carmel Symphony.

Appreciation of new music has led to recitals of new compositions in St. Petersburg and Tampa Bay, Florida; Frankfort, Illinois; and a handful in Indianapolis. He recorded a new Concerto for Clarinet by A. Paul Johnson and a number of Divertimenti and Serenades for clarinet by the same composer on the MMC label (Boston) and Apollo label (Tampa).

Since retiring with his wife, Joani, to the forested hills of Owen County where they have horses and multiple rescue dogs, he greatly enjoys adjudicating solo and ensemble contest (especially the first and second year string players) and organizational contest, including the State Qualifications. Ed also goes to many schools with Paiges Music representatives helping beginners try out instruments for beginning orchestra or band.