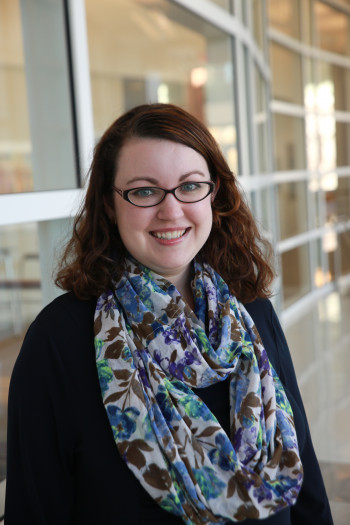 Elissa Harbert is an award-winning musicologist with expertise in music of the United States and Europe from the eighteenth century to the present. Her research focuses on musical theater, cultural memory, and historical representation in dramatic productions for stage and screen. Before arriving at DePauw in 2015, she taught at Northwestern University and Macalester College.
Dr. Harbert completed her PhD in Musicology at Northwestern University with departmental honors, and she was awarded the American Musicological Society's Alvin H. Johnson AMS 50 Dissertation Fellowship, as well as grants and fellowships from the American Heritage Center and Northwestern University. Her articles "'Ever to the Right'? The Political Life of 1776 in the Nixon Era" and "Hamilton and History Musicals" were published in American Music, where she also served as Book Review Editor from 2016-2019. She has contributed several chapters to edited collections on musical theater including The Routledge Companion to the Contemporary Musical and The Palgrave Handbook of Musical Theatre Producers. She is currently writing her first book, Singing the Past on the Broadway Stage: History Musicals and Cultural Memory. In addition to musical theater, her research and teaching interests include film and television music, the Vietnam War era, exoticism, gender and sexuality, transatlantic musical cultures of 18th- and 19th-century America, reception history, and historiography. She has presented research at numerous national and international conferences such as the Society for American Music.
Dr. Harbert's music history courses explore issues of race, gender, and the cultural contexts of music spanning a wide range of genres, times, and places. Her teaching emphasizes critical thinking skills, writing, and in-depth discussion. She regularly teaches courses such as Broadway Musicals, Music and the Vietnam War Era, Exoticism in Western Music, History of Western Music Surveys, Senior Seminar, Musicking, and Music Appreciation.
Originally from Texas, Dr. Harbert graduated with a Bachelor of Music magna cum laude in oboe performance from Lawrence University and earned a Master's degree in oboe performance from Wichita State University, where she played in the Wichita Symphony Orchestra.