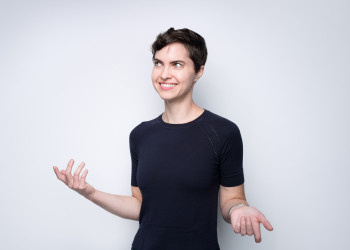 The music of composer Eliza Brown, described as "delicate, haunting, [and] introspective" by Symphony Magazine, has been performed by leading new music ensembles including Ensemble Dal Niente, ensemble recherche, Network for New Music, Quince Contemporary Vocal Ensemble, Spektral Quartet, International Contemporary Ensemble, Wet Ink Ensemble, Wild Rumpus New Music Collective, and PRISM Saxophone Quartet. Her works have been heard at venues throughout the USA and in Mexico, Colombia, Germany, Hungary, Spain, Canada, and the UAE, as well as at juried festivals such as Omaha Under the Radar, the John Donald Robb Composers Symposium, the SCI National Conference, and the Ball State and Bowling Green new music festivals. Eliza's music has been recorded and released on multiple labels and has been supported by grants from the Illinois Arts Council, the Paul R. Judy Center for Innovation and Research, the Claire Rosen and Samuel Edes Foundation, and New Music USA.
Eliza's music is frequently intertextual, opening dialogues with existing pieces of music, historical styles, and other cultural artifacts. Eliza's work also explores the relationships between music and the other arts and humanities. She has engaged in interdisciplinary collaborations with practitioners of theater, dance, architecture, poetry, visual art, and film, frequently taking on a variety of artistic and administrative roles in these collaborations in addition to "composer." Eliza views the building of intentional, project-specific collaborative processes as an essential part of her work.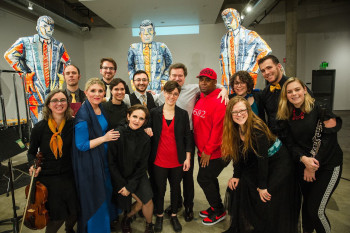 In keeping with this interdisciplinary, collaborative focus, Eliza's catalogue contains a significant amount of vocal chamber music and music-theater. After winning Center City Opera Theater's art song competition in 2012, Eliza had a scene from her opera Cosimo as Orpheus workshopped and performed by that company in Philadelphia. She was subsequently selected for the inaugural Contemporary Opera workshop at the 2014 Darmstadt Summer Courses in Darmstadt, Germany, and her first opera, a one-act monodrama titled The Body of the State, was commissioned and premiered by Ensemble Dal Niente in Chicago in 2017. Based on the life and incarceration of Renaissance Spanish Queen Juana of Castile, The Body of the State was written in collaboration with six women who were at that time incarcerated at Indiana Women's Prison. In this piece and others, Eliza approaches vocal music as a form of storytelling in which text, vocal line and instrumental parts are equally responsible for carrying the story. Her vocal music is as influenced by her childhood experiences of communal folk singing as it is by the long history of opera and art song, and she writes original lyrics for many of her works.
At DePauw, Eliza teaches courses in music theory/musicianship, composition, and DePauw's 21st Century Musician Initiative curriculum. She holds degrees from University of Michigan School of Music, Theater and Dance (BMus) and Northwestern University (DMA), where her primary mentors were Hans Thomalla and Lee Hyla. Eliza also has a long-time affiliation with the Walden School Young Musicians Program, a summer program focused on composition and improvisation where she spent many summers as a faculty member and Academic Dean. The Walden School's unique, creativity-focused approach to music pedagogy is a deep influence on her teaching.
https://soundcloud.com/eliza-brown/ich-bin-der-welt-abhanden-gekommen
https://soundcloud.com/spektralquartet/eliza-brown-string-quartet-no
Headshot by Mary Rafferty