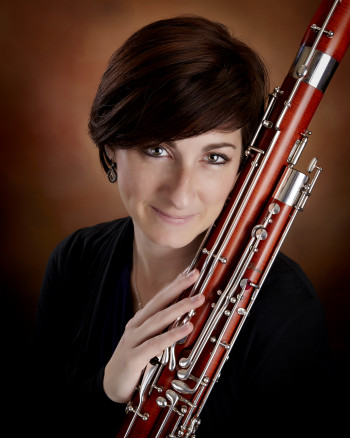 Kara Stolle is Principal Bassoonist with the Indianapolis Chamber Orchestra. She is and an active studio musician, chamber musician, and contractor in the Indianapolis area. In her role as a production manager at Aire Born Recording Studios, she manages recording production for Lorenz Publishing.
Stolle's performance of Villa-Lobos' Ciranda des Sete Notas for bassoon and string orchestra with the ICO was praised by the Indianapolis Star having "exhibited delightful virtuosity, her command of her role -- its tenderness and breadth of expression -- seemed superior to the dance-inspired material, which was deployed playfully...in a well knit performance."
Appointed 2002, Professor Stolle teaches applied bassoon, reed-making, pedagogy, bassoon methods, coaches chamber music and has performed with the DePauw Faculty Woodwind Ensemble. She received her bachelor's degree in music performance from Butler University and her master's degree from the Indiana University School of Music in Bloomington, IN. Her teachers have included Homer Pence, Charles Rader and Kim Walker on modern bassoon and Michael McCraw on baroque bassoon.