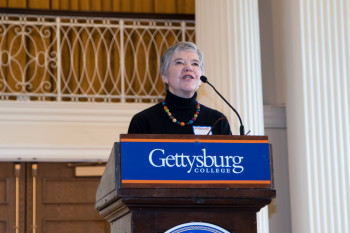 Kay Hoke earned a B.A. in Music from the University of Kentucky and Ph.D. from the University of Iowa. She began her academic career in Indiana, serving on the music faculty at Butler University for twenty years before accepting the position of Chair of the Division of Fine Arts and Professor of Music at Brevard College in North Carolina. More recently, she served as Director of the Sunderman Conservatory of Music at Gettysburg College before assuming the title of Professor of Music Emerita in 2018.
Throughout her career, she has been active as a writer, speaker, and workshop leader. Dean Hoke served on the board of the College Music Society (CMS), chaired the Committee on the Status of Women, and was director of the CMS Institute on Women, Music & Gender held at Indiana University in 1996. Her work as a national workshop leader from 1996-2013 for Music! Words! Opera!, an educational program of Opera America, took her to regional opera companies throughout the United States.
While living in Indiana, Dean Hoke was the pre-performance lecturer for Indianapolis Opera and also a pre-concert speaker for the Ensemble Music Society. In North Carolina, she gave preview talks for Opera Carolina in Charlotte and was a program annotator for the Brevard Music Center.
As an administrator, Dean Hoke has been active in the National Association of Schools of Music (NASM), elected as a member of the Commission on Accreditation in 2016, and serving as a visiting accreditor since 1998. An enthusiastic teacher of music theory and history courses as well as special seminars and honors courses on a wide range of topics throughout her career, she has also been involved in 21CM activities. For the Sunderman Conservatory's 10th anniversary in 2015-16, she and her colleagues chose the theme "Making Music in the 21st Century: Innovation and Adaptation." A symposium and residencies by Decoda, JACK Quartet, Imani Winds, Anonymous 4, and Duo Amal enlivened this yearlong celebration. She also participated in the CMS Summit on 21st Century Music School Design in the summer of 2016, and gave a presentation, "A Journey Around the Curriculum: Affecting 21st-Century Changes at the Margins," at the annual NASM meeting in 2015.