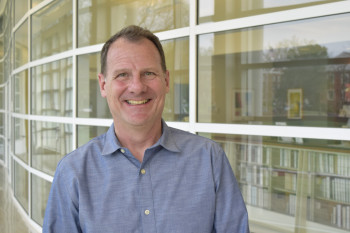 Mark Rabideau is Director of the 21st-Century Musician Initiative at DePauw University, overseeing curricular innovations, artistic planning, community education and engagement, and the Center for Creativity. Mark teaches courses in music entrepreneurship and Design-Thinking.
Mark is editor and publisher of 21CM.org, editor of the College of Music/Routledge series: Emerging Fields in Music, and serves on the editorial board of Artivate. He is the author of The 21CM Introduction to Music Entrepreneurship and recipient of the 2018 Society for Arts Entrepreneurship Educators' Innovative Arts Entrepreneurship Pedagogy award.
Mark's entrepreneurial spirit has sparked the launch of a live radio show from NYC's upper-westside (Live from Smoke); founding of the not-for-profit arts organization Artists Now, for which he served as Executive and Artistic Director; an original work with the American Repertory Ballet (Worlds End); Art in Unlikely Places – an ongoing project fueled by the belief that art's transformative powers must be made accessible to the underserved.
A Getzen Artist/Clinician, Mark has presented clinics, programs, and concerts throughout the United States, South America, Asia, and Europe, including appointments as Artist/Faculty for the International Trombone Festival in Brasilia, Brazil (2007, 2010), and Beijing, China (2007). Mark's bravest moments performing were with "The World's Most Dangerous Orchestra" (Juárez, Mexico) and most cherished while commissioning, recording, and performing new chamber music with his quartet, CTQ.
A compelling arts advocate, Mark has delivered recent talks at Curtis, Yale, American College in Greece, and American University in Cairo (Egypt) – where he served as Distinguished Visiting Research in 2018. He co-chairs the College Music Society's Entrepreneurship Education Committee and was a member of the Core Planning Team for CMS Summit 2.0.
Mark has three beautifully talented children, and a wife that he adores.