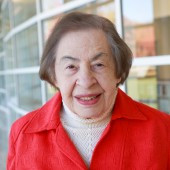 Maureen Carkeek received her degrees from DePauw University as an organ major and an SMM from Union Theological Seminary in New York City. She held positions at St. George's Episcopal Chapel and the Dutch Reformed Church in Jersey City.
Upon returning to DePauw, she taught organ and piano. She served as organist and choirmaster at St. Andrew's Episcopal Church and as assistant organist at Gobin Methodist Church where she conducted a children's choir, which also participated in oratorio and opera performances at DePauw.
In 1971, she started an extensive piano study with Natasha Magg and now teaches piano exclusively. She and her husband traveled in Europe frequently to study historic organs in Germany, the Netherlands, France and Italy. They served as the directors of two Freiberg, Germany, DePauw student programs in addition to programs in Vienna, Austria, and Budapest, Hungary, where she taught piano.
Carkeek has served as an adjudicator for IMTA and MTNA and many of her students have won awards and competitions, including the Indianapolis Symphony Orchestra Young Musicians Contest. After writing and sending a tape of her 10-year-old student to the White House during the Clinton Administration about concert possibilities for talented young artists performing there, she was called to send two students for the annual Christmas party.
She has published Three Short Carols with H.W. Gray Co. and is currently working on an album for young piano students.