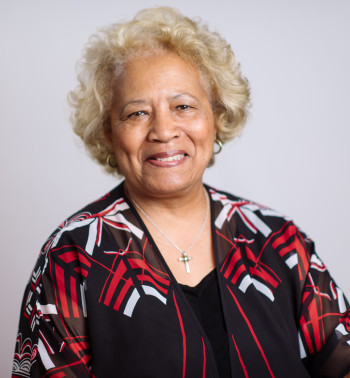 Mellasenah Morris earned a Bachelor of Music degree in Piano Performance from the Peabody Conservatory of Music. She completed a Master of Music degree in Piano Pedagogy and a Doctor of Musical Arts degree in Piano Performance at the Peabody Institute of The Johns Hopkins University. She studied with Julio Esteban and performed in master classes with such artists as Leon Fleisher, Irvin Freundlich, Fernando Laires, and David Burge. Also, she has received coachings from Ann Schein and William Bolcom.
Dr. Morris gave a debut recital at Carnegie Recital Hall. Since that time, her performances have included solo and lecture-recitals throughout the east coast and mid-west, as well as at St. Martin-in-the-Fields, London, England; and numerous appearances as an accompanist and chamber music performer, specializing in contemporary music. She has appeared as soloist with the Atlanta University Symphony Orchestra, Baltimore Chamber Orchestra, Maryland Women's Symphony Orchestra, the James Madison University Wind Symphony and Symphony Orchestra, and The Ohio State University Orchestra.
Along with a varied performing career, Mellasenah Morris has enjoyed several academic appointments, including service on the faculty of the Peabody Conservatory. Other positions have included Assistant Dean for Academic Affairs at Peabody, Dean of the School of Music and Professor of Piano at Alabama State University, and Director of the School of Music and Professor of Piano both at James Madison University and at The Ohio State University. She has recently retired from her position as Dean of the Conservatory and Deputy Director of the Peabody Institute of The Johns Hopkins University and joined the DePauw University School of Music as Interim Dean.
Dr. Morris has been an active participant in the National Association of Schools of Music, serving as a panelist, moderator, and presenter for numerous sessions at annual meetings and chairing accreditation teams. Currently, she is in her second term as national treasurer and as a member of the Executive Committee and Executive Board. Her most recent scholarly pursuits have included a biographical sketch on American composer Florence Price for Carlson Publications and pedagogical presentations for various chapters of Music Educators Association on intermediate-level French piano repertoire. Mellasenah Morris has been on the Friends Board of WOSU Public Media in Columbus, Ohio, and the Board of the Columbus Symphony Orchestra.