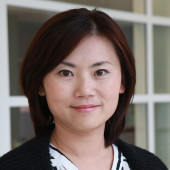 Dr. Kuo began to study percussion at the age of 14, after being introduced to the world of percussion by Su-Jin Hsu. During her time at Guo Guang Performing Arts High School, she began studies with Dr. Pei-Ching Wu, principal of Ju Percussion Group (JPG) and continued through her graduation from Eternal Life Christ College in Taiwan. Kuo also studied with Mr. Tzong-Ching Ju, the Founder and Artistic Director of JPG during the years in which Dr. Wu was pursuing her doctoral degree at West Virginia University. Kuo earned her Master of Music degree at Morehead state University in 2003. In 2012 she earned the Doctor of Musical Arts in Percussion Performance at the University of Kentucky as a student of Jim Campbell.
Dr. Kuo was an intern performing member of Ju Percussion Group from 1993 to 2002. During her time with JPG, she performed over 500 concerts and hundreds of music related activities including annual seasonal concerts at Taiwan National Concert Hall, JPG Music Theatre such as – Dream • Wind Bell I in 1993, II in 1994, and Music Theatre – See the Sound in 2001, the Musical "Cyrano de Bergerac" with Godot Theatre Company, the Annual JPG Children's Concert Tour from 1994 to 1997 and 2001, the Annual Lantern Festival hosted by Taipei City Government in 1995-1998 and Kaohsiung City Government in 2001-2002, Keelung International Modern Music Festival in 1997, Taipei-Seoul Exchange Concert in 1998, Taipei International Percussion Convention in 2002 and 2005. Her international performances with JPG include China, Japan, Malaysia, Singapore, Hong-Kong, Macao, Spain, Hungary, Australia, Canada and the United States. In 1999, Kuo was a co-founder of the Butterfly Percussion Quartet with Pei-Ching Wu. In 2011, Kuo co-founded XPlorium Chamber Ensemble with Dr. Nathan Nabb. XPlorium Ensemble has been invited for performances at the 2011 WASBE Conference & 20th Chiayi City International Band Festival.
Dr. Kuo has been a featured soloist with MSU Percussion Ensemble at the Percussive Arts Society International Convention 2003, the Brazil concert tour with Morehead State University in 2003, and WVU Percussion Ensemble at Lyell B. Clay Concert Theatre in 2004. In 2005, she premiered a solo marimba "Rippling Ruminations" by Renaldo Moya and Concerto for Marimba and Wind Ensemble by David Gillingham in 2007 (featured marimba soloist and Consortium Premiere with MSU Symphony Band). She was invited as a marimba soloist for a Christmas outdoor concert with MSU piano faculty at Feng-Chia University, Taichung, Taiwan 2008. She was co-director and featured soloist with the Indiana All-State Percussion Ensemble at Indiana Music Education Association Conference in 2018.
Kuo has been an active clinician and chamber ensemble performer since 2007. Events include Percussion Art Society Kentucky Day of Percussion in 2013, Indiana Percussion Association Clinic Day in 2016 and 2017, Music of the 21st Century Chamber Concerts in 2016 and 2017, Indiana Music Education Association Conference Day of Percussion in 2018, The North American Saxophone Alliance Biennial Conference in 2012 and 2018, clinic tours in Taiwan and numerous Midwest colleges and high schools.
Dr. Ming-Hui Kuo also appears on many CD projects with JPG, the MSU Faculty Holiday CD, Dr. William Mann's Trombone album, and XPlorium Ensemble.