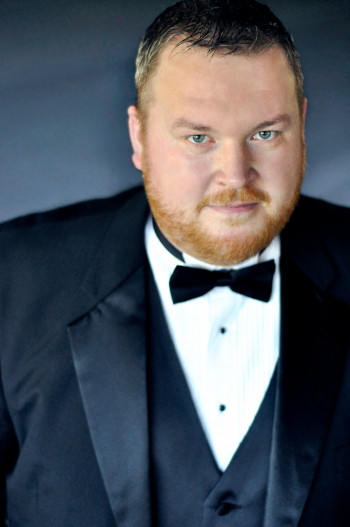 Troy Castle has been recognized for his robust bass-baritone voice, the regional and national success of his voice students, and the quality of his original research. He has covered and performed leading stage roles, including Mr. Laurence in Little Women: The Broadway Musical, Capulet in Gounod's Roméo et Juliette, Melchior in Menotti's Amahl and the Night Visitors, the title role in Puccini's Gianni Schicchi, and Bartolo in Rossini's Il barbiere di Siviglia. His major concert credits include featured solo performances in Brahms' Requiem, Handel's Messiah and Chandos Anthem No. 9, Mendelssohn's Elijah and St. Paul, and Mozart's Requiem. He has collaborated with regional and university ensembles for concert performances that include excerpts from Carmen, Les pêcheurs des perles, Eugene Onegin, Candide, Falstaff, Don Pasquale, Verdi's Requiem, The Secret Garden, Fiddler on the Roof, Ragtime, Oklahoma, and The Man of La Mancha (among others). His featured performances also include numerous collaborative and solo recitals that encompass a broad range of literature, and in 2011 he participated in a Lieder seminar and concert with world-renowned performer and pedagogue John O'Conor.
Castle was a 2020 semifinalist in the "Men in Opera" category of "The American Prize" competition and a 2019 finalist in the "Men in Art Song" category of the same. In 2017, he was a finalist in the artist division of the National Opera Association's Carolyn Bailey and Dominick Argento vocal competition. He was twice a regional runner-up in the highly competitive National Association of Teachers of Singing Artist Award competition (2010 & 2012). During his graduate and postgraduate studies, he was the 2010 Shenandoah Conservatory soloist competition winner and the 2008 recipient of the Grace Levinson and Richard Veale awards.
In addition to the Doctor of Musical Arts degree in voice pedagogy from Shenandoah Conservatory, Dr. Castle also holds a master's degree in voice performance and an undergraduate degree in church music. He is the co-recipient of the 2015 Shenandoah Conservatory "Dean's Graduate Scholar Award" which recognizes exceptional aptitude for research and scholarship, and his research on the elite operatic baritone voice has been presented at the annual symposium of The Voice Foundation and at national and regional conferences of the National Association of Teachers of Singing (NATS). He is a Level III certified instructor in Somatic Voicework™—The LoVetri Method and has completed post-certification training in pop/rock singing styles.
Castle holds full membership with NATS and the Pan American Vocology Association, and his engagement with current trends in voice research and the emerging field of vocology informs his instruction. He utilizes a functional approach to voice pedagogy, drawing from his knowledge of anatomy, physiology, and acoustics to elicit a functionally efficient technique from his students while emphasizing artistic authenticity across a wide variety of genres and styles. His students have enjoyed success in their performing endeavors; in 2017, four of his students advanced to the semifinal round of the NATS national student auditions.
A frequent adjudicator of voice competitions, Dr. Castle has also presented numerous masterclasses, workshops, and lectures. He continues to perform regularly in addition to his teaching and research pursuits. Having spent his formative years in Phoenix, AZ, he enjoys following Arizona's professional sports teams in his free time. He currently resides in Marion, IN, with his wife (Martha) and their boys Seth, Ethan, Silas, and Elliott.