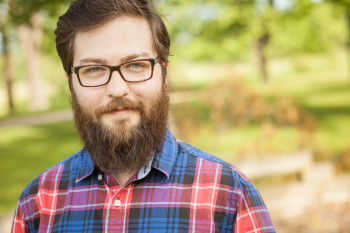 William Pearson is a composer and organist. He studied composition at SUNY Purchase with Suzanne Farrin, Du Yun and Huang Ruo, and at the University of Illinois at Urbana-Champaign with Erik Lund and Erin Gee. Recent large works include The Amphibian, a work toured throughout the US and Russia by The Fifth House Ensemble in collaboration with the Tuvan throat-singing ensemble Alash, and The Young Son, an evening-long staged composition written for the TAK Ensemble. His next large project is a documentary film about the historic Choir of Men and Boys at the Cathedral of All Saints in Albany, New York.
Pearson taught courses in Music Theory and Musicianship at the University of Illinois for five years as a graduate student, and has held teaching positions at Illinois Wesleyan University and DePauw University. He also taught composition and music theory to middle- and high-school aged students at both the University of Illinois Pre-College Academy and the Illinois Summer Youth Music program.
His current dissertation project, funded in part by a Kate Neal Kinley Memorial Fellowship, is about the ways in which music can be genuinely communicative, and the political, ethical, interpersonal, and pedagogical implications of communicative music. This involves analyses of his own music, as well as the music of Helmut Lachenmann and György Kurtág.
Pearson's music is influenced by philosophy, by his childhood experience as a choirboy, by filmmakers like Béla Tarr and David Lynch, and by artists like Jeff Wall, Charles Ray, and John Ashbery. In the last couple years, an attempt to articulate the political and ethical possibilities of music and musical composition has become an increasingly central motivating force.