There is something for everyone in the School of Music. Our community welcomes students of all academic and musical backgrounds.
Performing Opportunities – Available to all DePauw students!
The DePauw University Band, University Orchestra, Chamber Singers, Women's Chorus, Festival Chorus and Jazz Ensemble are open to all students through auditions that occur prior to the beginning of each semester. The Symphonic Band and Festival Chorus do not require an audition. A wide range of jazz combos and chamber ensembles are available as well. Learn more about our ensembles.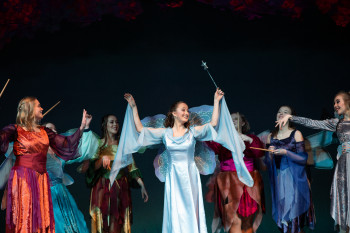 Each year the DePauw School of Music collaborates with our Department of Communication and Theatre to produce fully staged Musical Theatre and Opera productions. Opera Scenes and Musical Theatre Scenes courses are offered on rotating semesters.
Additionally, the DePauw School of Music offers a number of master classes throughout the year along with an annual Concerto Competition.
Be The Audience
The School of Music provides a wealth of concert, production and recital opportunities that can have a major impact on your life. From world-class soloists and ensembles to world-renowned guest artists, there is something for everyone in the School of Music. Hear a concert!
Music Performance Awards
College of Liberal Arts (CLA) Musicians who commit to enrolling in auditioned large ensembles may audition for Music Performance Awards ranging up to $3,000. Music Performance Awards are limited to tuition expenses only. Students who complete this audition will also be considered for an Applied Lessons Fee Waiver of $1,100. Learn more about auditions.
Minor in Music
The School of Music offers minors in music, jazz studies, and musical theatre by audition. Contact the Music Admissions Team for more information.
Double Major in Music
Double majors are available with our 49 College of Liberal Arts programs. Learn more about our majors and minors.
Take a Music Class
Private lessons are available in brass, woodwind, strings, percussion, piano and voice. Examples of music classes include Class Piano, Fundamentals of Music Theory, Class Folk Guitar, Class Voice, and Music Appreciation.
---