Free Online Course for Class of 2025 (for academic credit)
All deposited students in the DePauw University Class of 2025 are invited to participate in a free academic course related to the ethics of pandemics. In addition to exploring an important topic, students will meet faculty and other members of the class of 2025, practice transitioning to a college-level course, and earn a half-credit that will be applied to their DePauw degree.
Ethics and Pandemics
Examining the Critical Issues Raised by COVID-19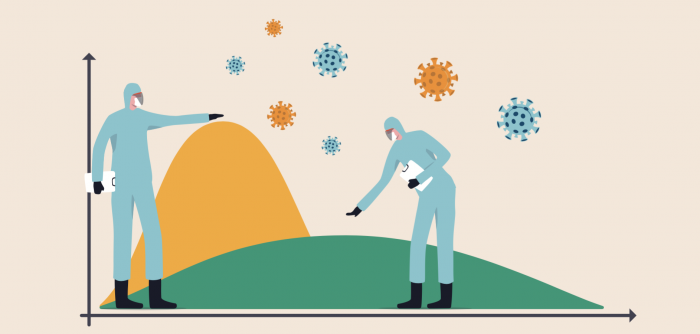 Dr. Andrew Cullison
Phyllis W. Nicholas Director of The Janet Prindle Institute for Ethics
Associate Professor of Philosophy

Tuesdays and Thursdays - 6:30-7:45 pm (Eastern Time) April 27 - July 2
4/27, 4/29, 5/4, 5/6, 5/11, 5/13, 5/18, 5/20, 5/25, 5/27, 6/1, 6/3, 6/8, 6/10, 6/15, 6/17, 6/22, 6/24, 6/29, and 7/1
Course Overview:
Pandemics raise a variety of ethical, political, scientific and societal challenges. This course will explore the issues that we are now grappling with amidst the current COVID-19 Pandemic. Grappling with these questions involves drawing on knowledge from a wide range of academic disciplines. Guest speakers/discussants from DePauw faculty will contribute to the course based on the topic for the week.
Topics may include:
Lifeboat Ethics: Deciding Who Dies
Hospitals across the country are now grappling with the grim reality that many of them may need to make difficult decisions about which patients should be given life saving treatments. What criterion should we use to determine which patients receive treatment?



Consumer Ethics in a Pandemic
The pandemic raises a host of interesting moral dilemmas for retailers and consumers. What moral limits are there to what you can buy in a pandemic? What goods and services count as essential? Should retailers ration supplies to mitigate panic buying? Is it wrong to raise prices on products that are in higher demand?



Employment in a Crisis
The coronavirus has led to historic levels of unemployment leading many to question the role of corporations and governments in mitigating the crisis. To what degree are governments or corporations responsible for providing income to help those who are losing their jobs? What obligations do employers have toward employees working from home?



Pandemics and Democracy
There has been debate as to whether democratic institutions are better able to deal with pandemics than more autocratic nations. We will examine what advantages and disadvantages democratic institutions face when trying to mitigate a pandemic. We will also explore the impact that pandemics pose to democratic institutions.



Freedom of Movement and Freedom of Association
One of the main tactics to mitigate the spread of a contagious disease is to implement policies that limit social interaction. This might include mandatory closing of businesses, cancellation of large social events, and lockdown or quarantine measures. This pits the safety of citizens against two fundamental rights that are largely regarded as essential to any free and democratic society. Where do we draw the line when it comes to restricting these fundamental freedoms?



Intellectual Property in a Crisis
The COVID19 pandemic has led to interesting debates about the value of protecting intellectual property when the consequences of that protection risk lives. The most prominent case involves people 3D printing patented parts for ventilators, which is widely regarded as one of the most vital pieces of equipment to prevent COVID-19 deaths. We will discuss different theories about the moral grounding for protecting intellectual property and how those theories would apply to intellectual property in a pandemic crisis.



Marginalization
Pandemics and responses to them can be alienating and oppressive. We will discuss ways in which marginalized groups might be at greater risk and/or suffer a greater undue share of the burdens caused by the pandemic (or our responses to it).

Research Ethics
A crisis sometimes puts pressure on communities to ignore or suspend widely accepted norms for responsible conduct of research. What moral limits are there to using experimental drugs, rushing vaccine trials, or conducting research on patients who might not be in a position to offer informed consent?

Moral Hazard and Moral Injury
Moral Hazards occur when a person takes a risk in situations where they are relatively secure in not bearing the negative consequences of that risk. Moral injury is a kind of harm experienced by people who are forced to do things that go against their moral values. We'll discuss the ways in which both of these phenomena are present in the current pandemic and whether there are any moral obligations that arise for us once we are aware of them.
---
The Details
This course, which will be taught remotely, is open to all students who have paid deposits by 4/20. There is no cost for the course and all materials will be provided without charge.

Students must have Internet connectivity as well as a device (laptop, tablet, phone, etc.) that can run Zoom conferencing software, which is freely available.

Students will be evaluated on weekly response papers (500 words) to readings or reflection questions given at the end of class, participation in the online discussion forum and two 3-5 page papers.

Grades will be assigned using DePauw's pass/D/fail grading system.
---
Registration
/p>
---
Questions?

If you have any questions about the course contact Dr. Andrew Cullison - andycullison@depauw.edu