Julia Michaels '20
Admission Counselor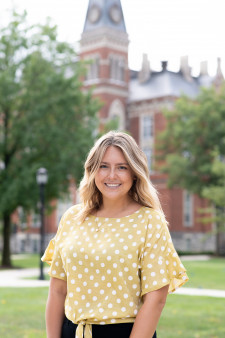 Julia was born and raised in what some might dub "The Region", or Northwest Indiana in the city of Valparaiso. Knowing that she wanted to grow roots in the Midwest, she visited campus her senior year as part of a college road trip and fell in love with DePauw the moment she arrived. During her time at DePauw, Julia made sure to take advantage of both on and off campus opportunities. While on campus, Julia was an Honor Scholar, a selective interdisciplinary learning group, and a radio host at DePauw's very own radio station, WGRE 91.5. Majoring in History and minoring in Peace and Conflict Studies, Julia's academic interests inspired her to venture abroad where she spent a Winter Term in Greece and a semester abroad in Scotland studying at the University of Glasgow. Julia received her Bachelor of Arts degree in May 2020 and joined the staff in July 2020.
For her, accepting a position at DePauw after graduation was a no-brainer. After spending four years experiencing all that DePauw has to offer, Julia was eager to return not only to campus, but to the Office of Admissions. As an undergraduate student, Julia became a campus tour guide and seized the opportunity to become a senior admission intern. She now looks ahead to connecting with students and their families as an Admission Counselor for the suburbs of both Chicago and Indianapolis. For her, the most exciting part of the position is working with students throughout their college search process to find a place that will allow them to grow academically, socially, and personally.
When not working, one can find Julia enjoying her favorite food, ice cream, at her favorite Greencastle spot, Dairy Castle. Julia is also an avid reader and nothing beats reading a good book during an Indiana sunset anyplace on DePauw's beautiful campus.
Education
DePauw University, '20, Bachelor of Arts: Major, History; Minor, Peace and Conflict Studies