Richy Cains
Admission Counselor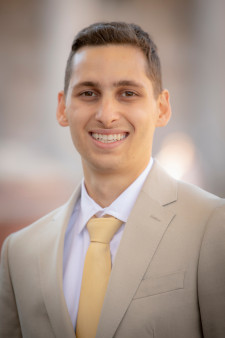 Richy grew up in Northwestern Indiana in the sliver of the state in Central Time Zone. He attended high school at La Lumiere School in LaPorte, Indiana. Richy occupied his time in high school with baseball, Science Olympiad, volunteering, and student government.
Majoring in Anthropology and minoring in Film and Media Studies, Richy attended Colgate University, a small liberal arts college in Upstate New York. As a Cuban-American, Richy had always sought after a space to think critically about his ethnic and national identity. Richy found this opportunity in Colgate's anthropology department, where he studied Cuban nationalism and the politics of division in post-Revolutionary Cuba. During his junior year, he spent a semester abroad in Manchester, UK, immersing himself in English culture and society as a student at the University of Manchester.
Richy recruits from Chicago public schools and enjoys being able to travel throughout the Midwest. As an Admission Counselor and the Multicultural Rectruitment Coordinator, Richy hopes that he can contribute to DePauw's commitment to diversity and inclusion on campus.
Education:
Colgate University, '18, Bachelor of Arts, Major: Anthropology, Minor: Film and Media Studies