Find Your Fit: Shopping For The Right College
October 5, 2016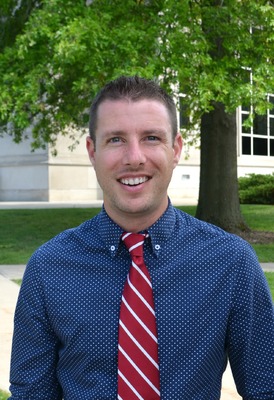 Welcome to the most stressful, rewarding, illusive, transparent, busy, fun, confusing journey: The college search process! At DePauw, we recognize that this is the first time that you're going through this process, and we've decided to write a monthly blog to help ease your fears and clear up misconceptions that you may have. We want you to see the "man behind the curtain", and we encourage you to get to know us as we get to know you as a student, scholar, athlete and leader.
But who is this blogger, you ask? Howdy, I'm Zak George :) I've worked in college admission for nine years at a variety of different colleges: small private colleges and large catholic colleges, urban, rural and suburban colleges. I've found my home working for DePauw University, and work specifically with students from the suburbs of Chicago, but will be writing to ALL of you, new students embarking on this journey, regardless of where 'home' is.
One thing you should be aware of, from the start of this blog, is that the college search process is JUST LIKE grocery shopping. We all go in the same door, with empty hands, yet we all leave with different items. What we go into the store looking for always differs, and what we can create as a result of the trip is specific to our own tastebuds.
Let me give you glimpse of what grocery shopping looks like for me.
Me: (entering Grocery Store) "I don't need a cart, because I'm just picking up a few items. Healthy food for a salad and coffee. I can't forget the coffee."
Me: "WHY are there so many types of apples? What does my recipe call for? Fuji? Gala? And, can I try one, to make sure I like them?"
Me: "I'm STARVING". I need Easy Mac, NOW. Five boxes, please. Salad? That takes forever to prep and chop. I'll start eating healthy next week."
Me: (juggling five boxes of Easy Mac and a gallon of milk)- "I NEED A CART! I DIDN'T THINK I NEEDED ONE, BUT I NEED ONE!"
Me: "Clean-up in aisle five… Someone spilled a gallon of milk. I didn't catch who it was" (fleeing!)
Me: (debating which checkout line to go through) "I can totally do self-checkout. What's a barcode? Do apples have barcodes on them?"
Me: (leaving Grocery Store) "I FORGOT THE COFFEE!"
As you continue your junior year, you'll start to realize that each of these occurrences at your local grocery store have deeper parallels to your journey of "selecting a college", and we are going to address each of these parallels over the year.
You're going to need a few things to get going on your trip to the store: a cart, a list, a recipe book, a clean palate and an understanding of the difference between Fuji and Gala (or, in this case, national liberal arts colleges, state schools, Ivies, music conservatories, community colleges, trade schools and even gap years). Throughout this blog series, I'll provide you with all that you need so that you can tackle the college search process just like you tackle the apple section: with a hunger, a list, an understanding of the options and a clear winner.
Next month, we'll grab our cart and shop around, teaching you how to make the most of college fairs and colleges visiting your high schools. We'll talk through how creating a shopping list prior to attending these events can help you leave fulfilled, without forgetting what you came there looking for in the first place! Until then, I encourage you to add in the comments section what one item is necessary for a college as you build your 'grocery list'.
Happy shopping!
Zak George, Associate Director of Admission
comments powered by