Fall Fridays at DePauw - Inside Look into the Life of a Tiger
September 13, 2016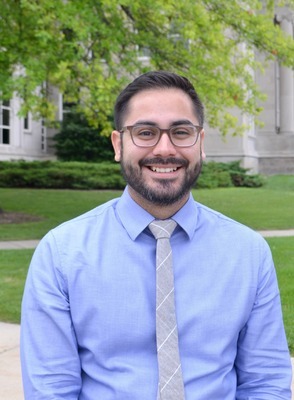 In a previous blog, I mentioned the importance of visiting colleges to which you're applying. It's probably safe to say then, that you're wondering how best to organize a trip, or whether you should schedule a personalized visit instead of attending an open house. At DePauw, you can choose either of the two. In this blog, however, I'll give you three reasons why should consider coming to one of our events called Fall Fridays.
Connect
Your Fall Friday is designed to connect you to our community. When you arrive, you will be greeted by the admission staff who, I might say, are warm and tons of fun! But seriously, getting the chance to meet you and your parents excited us. You will have a lot on your itinerary, but you'll also have some time to mingle with us again at the closing reception. And on a personal note, my favorite part of the day is that reception when I'm able to chat with you about your experience and even hear a little bit of your story. It really is the most rewarding part of my job.
In addition to connecting with our staff, you will be introduced to a current student with whom you will spend a portion of the day. Together, you'll attend their class and meet their professors. These students and faculty members are genuinely interested in meeting you, so feel free to ask them about their own DePauw experiences. You should also ask for their advice about what it takes to succeed at DePauw. Most of the time, the current students you meet are first-years or sophomores, so there's a great chance you'll see them again next year if you end up joining the DePauw community.
Imagine
As you meet various people during the day, keep in mind that there's a higher level of activity in which we want you to participate. One of our main goals for a Fall Friday is to give you the chance to engage your imagination in creating a day where you are a current student.
Your itinerary will be packed, but it will deliberately focus you to see much of our physical space, spanning four ends of the campus. Therefore, your mission should be that as you walk into East College's Meharry Hall, strive to see a "future you" who's excited because you're about to hear from one of our many Ubben Lecture speakers. Or, as you enter the Welch Fitness Center, imagine yourself walking in with a water bottle about to crush your workout. And if you feel like you'll have trouble getting into the mindset, remember, that with an 8:00 am start to the program, you will quickly realize what it's like to wake up for an early class on a Friday morning. You may think that using your imagination during a college visit seems like an awkward exercise, but I promise that you'll gain so much more from the experience if you go from being just an observer to engaging your own DePauw story.
Relax
I know I just encouraged you to actively engage your mind while you walk across our campus, but now I'm suggesting you relax? Yes, I am.
Your college search may seem overwhelming, but Fall Fridays are designed to help demystify the application process. We understand you may have a lot of questions, or may not even know which questions to ask in the first place. You may even feel pressure to make the "right" decision from those guiding you at home or at school. So, to help you relax, we create an itinerary in which you get to enjoy the experience on your own. Your parents will attend their own sessions aimed at answering parent questions. But you get to pair up with a current student, shadow them as they go to class, and even eat with them. YOU get to ask about student life on DePauw's campus. YOU get to hear about our traditions. YOU get to sit back and take it all in yourself. And I promise the butterflies you felt at the beginning of the day will have left you by the time you drive away.
I hope I was able to get you excited about attending a Fall Friday. There are three more left, so don't miss out and sign up today!
comments powered by