Get Caught Up in College Search
April 13, 2017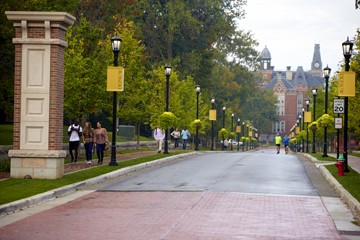 As you're in the final stretch of your junior year, you're also nearing the starting line of your college search process. By now, after reading all of my helpful blogs, you've browsed our website, emailed your DePauw admission counselor, took a look at visit options for this spring and summer, and started thinking more about scholarships and financial aid! Great work!
No…? You're not there yet? That's ok! This month, I am here to help catch you up to DePauw and some great next steps for you to consider as you wrap up your junior year and begin your summer. So follow along with these common questions and answers to help in better understand DePauw!
Q1. The DePauw website- What's the best way to navigate a college website?
A1. Every college website, including DePauw's, has a search bar. That search bar works just like Google, but for DePauw specifically. Interested in Political Science? Type Political Science in the search bar, and it takes you to all of our resources and pages about our major, internships, and graduates. Interested in the fun traditions of campus, or the football team, or the AP credit guidelines? Type 'Traditions', 'Football' or 'AP' and…. Voila! Magic! It's there to be a helpful resource as you continue to explore your new home at DePauw.
Q2. My admission counselor- I'm nervous. What should my initial email to my DePauw Admission counselor say?
A2. We want to hear from you. You're on DePauw's radar, as you are receiving our emails and blog posts, so clearly we are interested in you. We want you to reach out, introduce yourself, and allow us to get to know you a bit more. When we read applications, we want to really KNOW the student behind the essay and the application. DePauw is a special place, and the relationships that you form at DePauw start in the admission and application process. Tell us who you are, how you've heard of DePauw, and what excites you about DePauw University. There's a smiling admission counselor on the other end of that email, excited to make contact!
Q3. Visit days and Open Houses- What are they, and is it the only time I can visit?
A3. Some colleges call them visit days, some call them open houses, but they are both the same! In the Spring, we call them Spring Preview Days, and in the fall, you can visit during our Fall Fridays! These are great opportunities to get a broad perspective of DePauw and our offerings, but are not the ONLY opportunity to get a perspective of the college. Can't visit for the visit day because of a track meet, English paper or Prom? That's ok! Our personalized visit programs help you accomplish the exact same thing, just more individualized. We offer these programs Monday-Friday, even through the summer. Any time in a fantastic time to visit DePauw!
Q4. Money. It's an important factor in my college decision, but I don't know where to start.
A4. We want to help explain the process of scholarships and financial aid. You can start with your DePauw admission counselor, you can start with our search bar (type Scholarships!), or you can start with a visit to campus, where we will talk you through the variety of scholarship and financial aid options for DePauw! For more information, check out next month's blog post, where I help break down the merit and need based scholarship process for you!
Have more questions? We've got answers! Reach out to your DePauw admission counselor with any other specific questions on majors, class sizes, study abroad options or… really, anything, and we are happy to help! We are so excited to know that DePauw is on your list of colleges that you are exploring, and we look forward to getting to know you more as the summer and fall progress.
So explore that website, email that DePauw counselor, schedule that visit and start your DePauw story today!