The 5 W's of Your DePauw Admission Counselor
November 14, 2016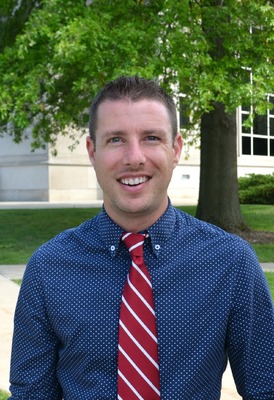 The 5 W's of your DePauw Admission Counselor
As you continue your junior year, you'll have many interactions with our DePauw staff: We send emails, we visit your high school for a college fair, we host regional interviews throughout the country and we greet you upon your visit to campus. Early in this blog, I mentioned that the purpose of me writing was for you to see the 'man behind the curtain'; today I'll highlight the 5 W's of who the DePauw Counselor is.
Who: It's very important to remember that DePauw admission counselors have the word counselor in their title. We work hand in hand with your high school counselors and college and career coaches to help counsel students on finding the right college. We are part informant, part reader, part traveler, part educator and part regular person. It wasn't too long ago we were standing in your shoes and we all remember the ebbs and flows of high school classes and curriculum. Some of us are alum of DePauw, and some us are not, but we all still feel passionate about the unique experience that is a DePauw education! We all love DePauw University, and want that love to be passed on to a new generation.
What: What is it that we do? That question has no one answer, as we do a lot to help you and your family better understand DePauw. First, we travel the country to talk about DePauw at college fairs, college nights and high school visits. Our most basic job requirement is to travel and talk, and we spend our fall and spring months crossing the country (and the world!) doing just that! In the winter months, we spend our days reading applications. We read your application, understanding your grades, essay and 'fit' into our institution. We advocate for you as you apply, making the case for admission based on the application that you submit. We welcome you as you visit campus, helping you get connected to important people and offices during your visit to Greencastle, so that you leave with the best information of our college. Most importantly, we educate ourselves on the day and the life of a DePauw student. We want to accurately reflect the daily experiences of a typical DePauw student, so we engage with the students, faculty and staff daily on what campus life is like in order to pass along the amazing stories during our travels!
Where: You'll find us at the college fair behind the DePauw table, on campus leading the information sessions, at Panera hosting interviews, and on the other end of your phone or email! Each of us works with students from specific parts of the world, and each of us knows practically everything about your high school and hometown, though we always welcome dinner recommendations or great coffee shops to check out while visiting your area! You can find out who your specific admission counselor is, based on your location, here.
When: When should you start working with us? As soon as you are ready! We work with any and all high school students, and though our work right now is primarily working with seniors and reading their applications, we welcome questions about campus life and majors from any students and anticipate hearing from you early in the fall of your junior year!
Why: We do what we do because we love DePauw, and want you to love DePauw too! We love connecting you to current professors to learn about the recent research happening in the lab. We love reading your stories in the essays and applications and we love seeing your eyes light up upon being on campus for the first time.
It's important to remember that we are student-centered: your emails, calls, questions and requests are the first priority for us. We encourage you to start the dialogue with your individual counselor, so that we may help educate, advocate and connect you to the many amazing things happening at DePauw University! You're on our radar as a potential future DePauw student and we encourage you to take the next step with communicating with us, so that we can embark on this journey together. See, the 'man behind the curtain' isn't so scary, afterall!