Living in the Dorm
January 31, 2020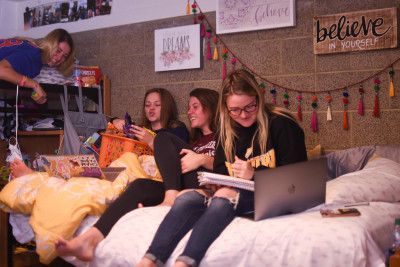 Living in the dorms at a university can be a great experience! You will not only meet lifelong friends and gain independence, you will also learn how to "adult" for the first time. Even if you're excited about this new adventure, it can seem like a lot to get ready before you move in. Here are a few tips for preparing to live in your first college dorm.
It's Good to Have Options
Most universities have a wide variety of dorms for first-year students. They'll usually have different features based on your needs and interests:
If you are planning to play sports, you'll want a dorm near the fitness center.

If you are an introvert, you might want to look for a smaller dorm.

At DePauw, first-year students can choose from different residence halls, each with common areas for lounging, studying and cooking, as well as other unique features.
Bring Comforts from Home
You may think that it isn't "cool" for a first-year student to bring mementos from home, but almost everyone will want to have at least a little something to remind them of home, family and friends.
You don't have to bring your entire childhood stuffed animal collection, but a special pillow or blanket can really help with homesickness. Don't be afraid to hang up those photos of your friends from high school; there will still be room to hang up pictures of your new friends from college too.
Time for a Shopping Spree? — Or is it?
Many universities provide a basic list of items that you'll want to bring to college, and you can certainly bring or buy those items before you move in. However, try not to buy any large pieces of furniture or major decorative items before seeing the space in person and talking to your roommate or roommates. Once you get your clothes and basic items unpacked, you can do some measuring and planning and purchase bigger items and more decorations. Our closest Walmart is just 7 minutes away, and we have nearby Targets in Plainfield and Avon too.
Speaking of Roommates...
Some high school seniors go to college expecting their first roommate to be their lifelong best friend and stand up with them in their future wedding. And for some people, things can work out this way! But try not to place those high expectations on your first-year roommate.
Fill out any roommate placement surveys accurately, and hopefully, you will get along and enjoy each other's company. Maybe you'll even want to room together in the future. But if not, it's okay. You'll meet tons of people in college, so don't put too much pressure on a single friendship.
Save the Drama for your Mama
High school can be full of drama, and those gossip-filled hallways can be hard to escape even when you go to college. As tempting as it can be to stir up drama or gossip in a hall full of your peers, avoid it if you can. However, if you are having truly serious issues with your roommate or another person on your floor, you can contact your RA or campus administration.
Your RA: Not Just a Rule Enforcer
Don't rely on the typical movie depiction of RAs to be accurate. Your first-year Resident Assistant is there to help you transition into college life. You can go to them with questions or issues, and they will also help plan social and community events to make your experience at college a blast!
Living in the dorms is a quintessential college experience, and we hope yours will be a great experience, no matter which college or dorm you end up in! To get started, be sure to submit your deposit after you have made your final college decision!
comments powered by

Disqus