Scholarships 101
January 27, 2020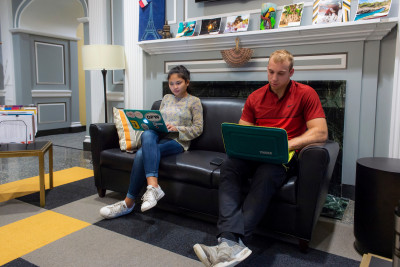 So, you've been accepted to your university (or universities), now it's time to work on paying for them. Scholarships and financial aid can seem tricky to understand, but the investment of time and research is well worth it to help support the cost of attending the school of your dreams!
Review the Financial Aid Offered
You should hear from your university about your financial aid packet within 3-4 weeks of submitting your FAFSA as well as any additional documents such as W2s and 1040 tax returns. Review this information carefully to determine your actual cost from the university.
If you are still waiting on your financial aid package, many universities, including DePauw, offer a net price calculator. While this is not a guarantee of your final cost, it provides a helpful estimate based on your academic and financial information combined with historical costs. Once you know how much aid your university is offering, you can determine how much may need to be sourced from additional scholarships. Most universities list all the aid you qualify for, including grants, merit scholarships, federal loans (which you have to pay back but which are typically lower in interest than private loans) and work study (where work on campus helps pay your tuition). The state of Indiana also provides a grant to any student who chooses a school in the state, such as DePauw.
Keep Important Docs Close
Almost any scholarship will ask for a few of the same items. Make it easier on yourself by keeping them in a Cloud-accessible folder so you can reach them anytime. Your folder of generic application items should include:
Your list of extracurricular and volunteer activities or "resume"

Standardized test scores

High school transcripts

Financial information (like your FAFSA)

And a well-crafted personal statement.
Hone your Personal Statement
You can keep a generic personal statement in your folder to get started on applications, but you should try to personalize it to the individual application whenever possible. Your statement should:
Tell the reviewer more about you as a person

Not just list your accomplishments again from your resume

Explain your need for the scholarship without sounding like you are pandering to the organization or school
Check with your Guidance Counselor
Your guidance counselor should be your first resource for applying for scholarships. They should have information on any scholarships offered by your high school or within your local community. They should also be able to provide you help in looking for scholarships online. In addition, you may need their help accessing transcripts, recommendations or other items you will need to apply for scholarships. After submitting an application, always be sure to keep the items you used (like in the Cloud folder mentioned above) so that you don't have to request them again.
Research Unique Options
Are academics not your strong suit? There are tons of scholarships out there that don't focus on your grades or test scores:
Do your research and you're sure to find a wide variety of scholarships that aren't only about your academics, scholarships.com is a great place to start.
Do the Work
One final thing to remember: scholarships may seem like a lot of work, but they will be worth it in the end. Try not to avoid applications that require an essay or a lot of components. Scholarships that require more work mean that fewer students apply for them, and that increases your chances of earning a top award. Get started on researching scholarships as soon as you can, and check your online databases as frequently as possible.
Don't ignore scholarships with smaller awards, because any money you earn will add up! It may help to think of earning scholarships as your part-time job senior year, because the more you earn the less you will have to pay later.
Paying for college can seem daunting at times, but with some time and effort, you can find scholarships to help make attending your dream college a reality! DePauw even has a list of scholarships we offer, and if you have any questions about financial aid at DePauw, don't hesitate to contact our Financial Aid Office or your admission counselor!
comments powered by

Disqus