What to look for in your financial aid package
February 6, 2020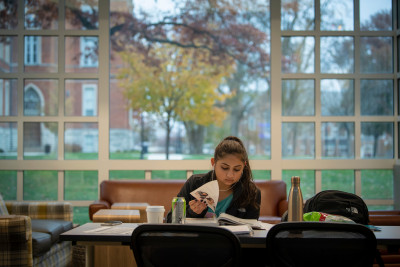 Money conversations can be tough to have, but they're an important step in making your college decision. Most students will be utilizing some form of financial aid, and you'll need to understand how to read the financial aid package you receive from each college.
You'll want to be sure to submit your Free Application for Federal Student Aid (FAFSA) information to the colleges you are interested in attending, and then you'll usually get your financial aid package in the mail or electronically within three to four weeks after receiving your admission decision. As you evaluate and compare your financial aid packages, here are a few things to look for.
Total Cost of Attendance
This will include the cost of tuition, room and board. Generally, room and board means both your living expenses and a dining plan. Most colleges have multiple dining plans based on your preferences and living arrangements. For example, at DePauw, the default plan for a first-year student living in a residence hall includes:
18 meal swipes per week

$200 Flex to purchase convenience snacks and items on campus

$50 Community to spend at participating local restaurants.
When you compare prices, you'll also want to factor in your own individual cost of books, traveling during the semester or any other regular expenses.
Expected Family Contribution (EFC)
Your Expected Family Contribution, often abbreviated by colleges as EFC, is the amount that colleges estimate your family can offer for your college tuition. This is usually based on information provided by your FAFSA, like your household income and assets, plus the size of your family and any other siblings who are also currently attending college.
Grants and Scholarships
You can look at grants and scholarships as gifts from your college of choice. And time for a little celebration; you will not have to repay these gifts! However, there are sometimes certain grade averages or other conditions that you must meet to remain eligible.
At DePauw, you can view our full list of scholarships and their requirements online. The state of Indiana also provides a grant to any student who chooses an in-state school, such as DePauw.
Loans
Loans are money that you will borrow from your college or federal entities that must be repaid. You and your parents will want to take a close look at the terms of these agreements, including the interest rate and schedule for repayment. Sometimes this schedule can come up for payment while you are still attending, and sometimes they are deferred until after you graduate.
Work Study
Federal work study is an additional way that you can help pay for college. This is another program where your eligibility is determined by your FAFSA information (you're getting that the FAFSA is pretty important, right?). Eligible first-year students at DePauw will have job advising opportunities during orientation, so be sure to fill out your work study paperwork ahead of time!
Federal work study does not guarantee you a job, but most colleges, including DePauw, allow students eligible for work study to apply for jobs in an earlier window than those not eligible so it can give you a leg up.
Don't forget...
If you are still waiting on your financial aid package, DePauw and many other universities offer a net price calculator. You won't use this as a guarantee of your cost, but it can give you a good estimate of your cost based on historical prices and other individual information.
If you have any questions about financial aid at DePauw, we are here to help you! Contact our Financial Aid Office today and we will answer any of your questions so that you can better understand the financial aid process.
comments powered by

Disqus