DeWords: Be In The Know - DePauw Student Lingo
September 12, 2017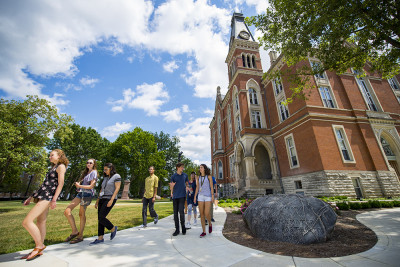 Every college campus has their own lingo. Being a senior, I can proudly name a few of "DeWords". After interviewing DePauw students, here is all lingo you must get to know in alphabetical order:
Birks- (Birkenstocks) shoes seen on many feet of DePauw students
Blend- smoothie bar created and planned out by a 2014 alum for her senior capstone project located on first floor of Lilly gym next to the bell. They have different smoothies throughout the year and they are super healthy!
Boulder- campus icon next to east college - fun fact: Several alumni bought it from a farmer who charged visitors 10 cents to view the "petrified turtle" he had on his farm. It soon grew to be a favorite meeting place on campus for couples meeting for chapel dates and honorary societies holding initiation rituals.
Bowman- (Bowman Park) the open space park area outside of the GCPA- fun fact it used to be a pond!
21CM- (21st century musician)- new music school curriculum to prepare students to be a musician in the 21st century.
Dells/ South Quad- where all the first year students have the opportunity to live (dorms are: College Street, Humbert Hall, Bishop Roberts, Longden Hall, Hogate)
DePauwcalypse- The infamous 2011 winter storm - first time DPU campus to be shut down for 2 days — now it references the annual chilly winter that happens from December to February so make sure you bring your winter coat!
DePauwcappella- the DePauw co-ed a cappella choir famous for singing in Meharry Hall Christmas time- they sing mashups and perform for events on and off campus! Try out!
DePlague - the time of the year where it seems like everyone on campus has the common cold or flu etc.
DePuppies- DePauw helps students distress by bringing puppies on campus during exam week!
Duck- (The Fluttering Duck) is the campus bar and grill attached to the inn- go on Thursdays and enjoy jazz at the Duck where school of music students and professors perform for friends and family!
D3TV- DePauw college student run tv station for sports and news! You can even create your own show
The DePauw- Indiana's first college run newspaper! make sure you grab your edition every Wednesday and write for it if you like!
Flex dollars- meal plan "dollars" you can spend on smoothies, food, coffee etc
GCPA- (Green Center of Performing Arts building) hosts Ubben Lecture series, Green concert series, and theatre and communications department along with school of music classes and a coffee shop!
Hub- (The Student Hub) student hangout where you can find games, comfy chairs to study -- fun fact there is a netflix account available for students to use there!
Hubbard Center- (Hubbard Center of Student Learning and Engagement) is centrally located on campus where students can go to get help with their resumes or finding domestic or international semester or summer internships, study abroad...or even finding a job after graduation…
Hoover- (Hoover Dining Hall) the brand new two story dining hall that offers buffet style food located at the center of campus. It's design is based off Great Hall in Hogwarts ( for all you Harry Potter fans). This dining hall has the capacity to house the entire faculty and student body!
Lilly- (Eli Lilly Gym) only 2 years old with 2 floors of workout equipment and also has the Neal Fieldhouse basketball courts, kinesiology classes and spin!
Late Night- hungry at 10PM? So is every other college student - take a break from studying and go to Hoover and grab a quesadilla or French fries!
Marvin's - restaurant right next to campus where every DePauw student, faculty, parent and alum will crave- you MUST order the GCB (garlic cheese burger on a hoagie bun) with a side of Mac Bites (fried Mac and cheese bites) - my personal favorite is to put mac bites on my GCB and dip it in ranch. I am so hungry right now.
Mefe -Media Fellow one of the 5 honors programs focusing on media. Students have the opportunity to experience a semester long domestic or international internship thanks to the Hubbard Center. To name a few, students have interned for; The Ellen Show in L.A., CNBC in Dallas, International World Food Programme in Rome, Italy, and Leo Burnett in Chicago. Other 4 honors programs are: Honor Scholars (HOSCO), Management Fellows (MOFO), Environmental Fellows and Science Research Fellows.
Monon Bell (pronounced MOE-non)- the red and gold 300 lb bell that represents the Monon Bell DePauw football game against the all boys college; Wabash. This traditional rivalry dates back to 1890. The Bell is awarded to the victorious team at the end of the game, to be held until contested again the following year. During the week of the game, both schools have numerous events and shared functions including concerts, debates and a blood drive.This year's game (2017) is a big deal because DePauw won the bell last year for the first time in 8 years.
Nature Park- Formerly the site of an active limestone quarry, consists of 520 acres of forest, fields, about 9 miles of hiking trails and recently constructed University facilities. Home to a variety of birds, wildflowers, trees and white-tailed deer. It is walking distance from campus and a great place to go on a run if you aren't feeling the treadmill.

Prindle - (The Janet Prindle Institute for Ethics) is one of the 4 libraries on campus located in the nature park where you can study or do yoga classes! Fun fact we are the only university that has a library for ethics!
Prospee- prospective student visiting campus.
Pub-Safe: (Public Safety) is campus security that circulates campus 24/7 ensuring safety for every student.
Roy- (Roy O. West Library) located in Holton Quadrangle. 3rd Floor Roy is the most quiet place to study- so quiet, you can hear a pin drop and you will not be interrupted by anyone or anything.
Safe Ride- the University run mobile that provides free transportation for students at night to their residences.
Scoops- new ice cream store walking distance in the Greencastle Square. They have peanut butter and jelly ice cream…
Sununu- Dr. A. Sununu will change your life and teach you how to write...that is if you are one of the lucky students enrolled in her class...
Ubben Lecture- the Ubbens (Tim and Sharon '58) bring in world famous leaders and icons to give a speech to DePauw students and faculty- students have the opportunity to talk ask questions - had Bill Clinton, Jimmy Kimmel, over 8 nobel peace prize winners including the most recent guest, Malala Yousafzai. AND it is free for students to go!
WGRE- (91.5 WGRE) student run 24 hour radio station-- fun fact, Princeton rated 91.5 WGRE #4 for best college run radio stations! Students call and text in their favorite songs or join conversations on air with their DJ friends!
Winter Term- month long class offered in January or June (June one is called May term) on or off campus -- DePauw is rated #4 for study abroad for Liberal Arts Universities and 90% of students have an off campus experience whether it's winter term, may term or semester study abroad!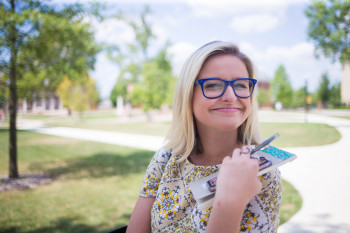 Ellie Locke '18


















comments powered by